Image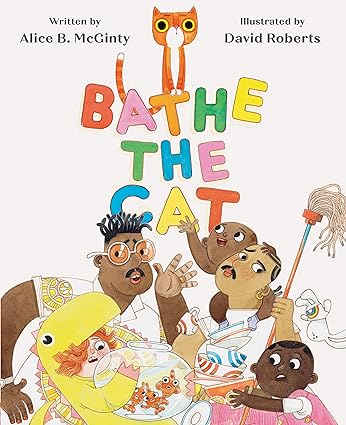 Bathe the Cat
It's cleaning day, but the family cat will do anything to avoid getting a bath. So instead of mopping the floor or feeding the fish, the family is soon busy rocking the rug, vacuuming the lawn, and sweeping the dishes. Bouncy rhyme carries the story headlong into the growing hilarity, until finally Dad restores some kind of order—but will the cat avoid getting his whiskers wet?

HILARIOUS READ-ALOUD: Word scrambles are a delight in this silly rhyming picture book! Kids will love the accessible rhyming text, and emerging readers will be able to anticipate words after repeated reads, making for an engaging and interactive read-aloud experience.

CATNIP FOR CAT LOVERS: This sweet and sneaky feline will do anything to get out of having a bath! Ample cat antics and scenes of increasing mischief (and increasing chaos!) around the house will tickle young readers and entice parents—particularly those with a furry feline of their own in the house.

TWO DADS LEAD THE WAY: Dad and Papa are the heads of this large and loving biracial family, mirroring illustrator David Roberts' own orientation and providing picture book readers with a positive depiction of LGBTQ+ characters in a fun and funny family story.