Summer is the perfect time for children to relax, read, and get swept away to places near and far. Together, we can combat the summer reading slide and keep our nation's children reading and thriving. RIF offers a variety of resources and activities to engage young readers all summer long.

Educators, we encourage you to share this page and resources with your students' parents (see parent take-home letter below). Parents/caregivers, please take a look at the many ways we can help you keep your child motivated and engaged in reading during the summer months.
Sign up for a RIF text
Want to receive a weekly summer literacy tip via text to keep your child(ren) reading all summer long? Text the word RIFREAD to 1-877-379-5018 and receive RIF updates. *Standard texting rates apply.
Summer Reading Lists and Activities
RIF has curated a list of great summer reads with activities for weekly summer fun.
Take a look at this summer reading list from our friends at Lee & Low, an independent children's book publisher focusing on diversity, featuring specially-curated diverse titles.
Comic Strip and Graphic Novel Writer Brian Anderson Joins with RIF To Inspire Young Readers
To learn more about Brian Anderson, his syndicated comic strip Dog eat Doug, and the books he has authored, visit www.brianandersonwriter.com.
Free eBooks
Dog eat Doug is a comic strip about a loveable lab named Sophie whose world is changed forever when her pet parents become first time parents to a baby named Doug. It is about unique, quirky individuals learning to live, love and grow together. Its mission is to inspire new readers to become voracious readers and grab a pencil and tell their own stories. The animated drawings and engaging cast are ideal for kids to read on their own or as a family read along. Thanks to the generosity of creator and writer Brian Anderson, you can read about their adventures for free this summer. Enjoy these eBooks and share with the children in your life!
Create Your Own Comic!
Looking for a fun activity to do with your child this summer? Brian Anderson shares his expertise with the RIF community as he walks young readers through the process to draw their own comics!
Start a Summer Book Club
Reading is more fun when you share it with a friend or two. Help your child start a summer book club.

June Book Bites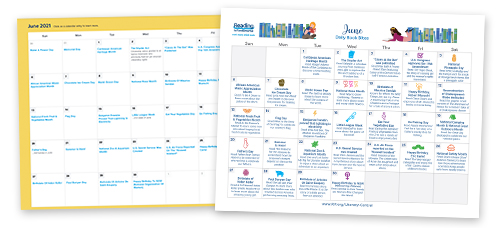 Looking for fun ways to encourage your child to read each day? Our monthly literacy calendars offer daily Book Bites with thematic activities, suggested titles, and fun holidays to encourage creativity and fun around daily reading. Check out June's calendar to access reading resources online or download a calendar of daily fun today!

Spend Time Reading Together
Reading a book aloud, taking turns reading, acting out the story, and discussing a book are all critical elements to building children's reading skills. Reading together with a parent or caregiver starts children on a path to obtain the necessary skills to become a proficient, engaged and lifelong reader. Here are some tips to make the most of your read-aloud time.
Encourage Independent Reading

Children of all ages benefit from spending time reading every day. RIF has created an Independent Reading Center which includes four high-interest categories to inspire young readers. In addition to suggested books and resources, each category offers a Kids' Activity Center where children can explore the topic independently through read-alouds, puzzles, and coloring pages. Visit our Independent Reading Center.
30 Day Free Trial of Skybrary!

Get a 30 day free trial to RIF's digital library of almost 1,000 eBooks and hundreds of real-world video field trips hosted by LeVar Burton.  With optional read-to-me narration, book animations, and book related activities, Skybrary offers an exciting source of books to keep children reading all summer long.
Be a Literacy Leader
RIF is a proud partner in 10-year-old Orion Jeans' Race to Kindness. This summer, Orion is racing to 500,000 books raised to support children across the country to keep them reading! Learn more about his work and how to get involved here: www.racetokindness.com. You may be inspired to be a literacy leader in your own community this summer and encourage children's summer reading.
Share the Importance of Summer Reading
To celebrate reading throughout the summer, share the importance of reading and our Soar into Summer Reading resources. Use hashtag #ReadWithRIF throughout the summer when posting online to share the books you're reading, your book stack, your students' or children's reading or your literacy-minded service activities.
Join RIF in creating an online reading movement!
➭FACEBOOK @ReadingIsFundamental ➭INSTAGRAM @readingisfundamental ➭TWITTER @RIFWEB