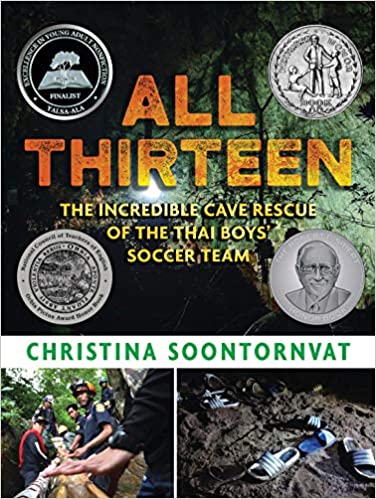 All Thirteen: The Incredible Cave Rescue of the Thai Boys' Soccer Team
A unique account of the amazing Thai cave rescue told in a heart-racing, you-are-there style that blends suspense, science, and cultural insight.
On June 23, 2018, twelve young players of the Wild Boars soccer team and their coach enter a cave in northern Thailand seeking an afternoon's adventure. But when they turn to leave, rising floodwaters block their path out. The boys are trapped! Before long, news of the missing team spreads, launching a seventeen-day rescue operation involving thousands of rescuers from around the globe. As the world sits vigil, people begin to wonder: how long can a group of ordinary kids survive in complete darkness, with no food or clean water? Luckily, the Wild Boars are a very extraordinary "ordinary" group.
| | |
| --- | --- |
| Age Range | 8 - 12 years |
| Genre | |
| Copyright Year | |
| Page Count | |
| Publisher | |
| Grade Level | 3rd - 7th |
| ISBN | |
| Lexile | 1020L |
| Themes | |