Image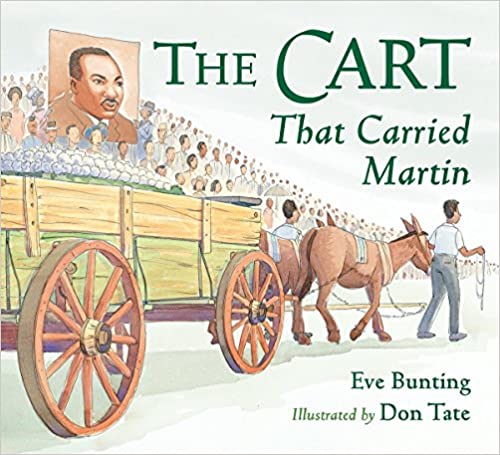 Copyright Year
2018-01-01
The Cart That Carried Martin
The strength and spirit of Dr. Martin Luther King, Jr. permeates this picture book about Dr. King's funeral in Atlanta, Georgia, in 1968. Quiet yet affecting, THE CART THAT CARRIED MARTIN, is a unique tribute to the life of a man known world-wide for his outstanding efforts as a leader of the African American Civil Rights Movement.
Eve Bunting focuses on the funeral procession of Dr. King, beginning with the two men who found the cart to carry him through the streets of Atlanta. After painting it green, two mules named Belle and Ada are hitched to the cart where Dr. King's coffin is placed. Tens of thousands of mourners gather as the cart makes its way to Ebenezer Baptist Church, and then past the Georgia state capitol to Morehouse College. All the while, crowds of people pay their respects by singing songs of hope.
Back matter includes a brief introduction to Dr. Martin Luther King, Jr.'s work, assassination, and funeral, accompanied by a full-color historical photograph of the real cart, drawn by Belle and Ada.
Copyright Year
2018-01-01