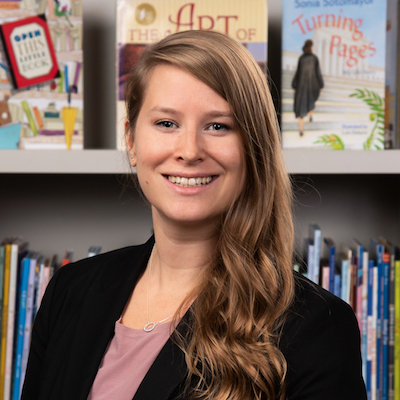 Kate Kolarik
Manager, Programs & Events
Kate Kolarik joined RIF in March 2019. In her role, she supports RIF's nationwide programs and leads projects relating to corporate employee engagement volunteer opportunities and events. This includes strategizing program implementation that satisfies grant goals, managing the recruitment of program sites, providing information and instructions to corporate volunteers, liaising between volunteer leads and educators, and ensuring all program deliverables occur within project scope and budget.
Prior to joining the world of children's literacy, Kate worked in children's theatre as the Assistant Production Manager at Imagination Stage in Bethesda, MD. In this role, she oversaw all elements of theatrical production including design processes, builds, load-ins, rehearsals, and performances for over a dozen productions a season. Productions included professional mainstage, interactive Theatre for the Very Young (TVY), and student performance ensembles. She also served as the Stage Manager for the annual gala and TVY productions. Before that, she managed Imagination Stage's apprentices, volunteers, and interns while also freelancing as an assistant stage manager in DC regional theatre.
Kate holds a BA from St. Mary's College of Maryland in Theatre, Film, and Media Studies with a minor in Dance and Movement.
FAVORITE CHILDREN'S BOOK
Madeline was my first inspriation to be brave, bold, and daring.