A history of inspiring the joy of reading to create skilled readers
Reading Is Fundamental (RIF) was founded on the insight that inspiring the joy of reading is essential to helping children become skilled readers. Explore our key milestones in tackling the U.S. literacy crisis and learn how we've created millions of RIF Kids over the past 55+ years.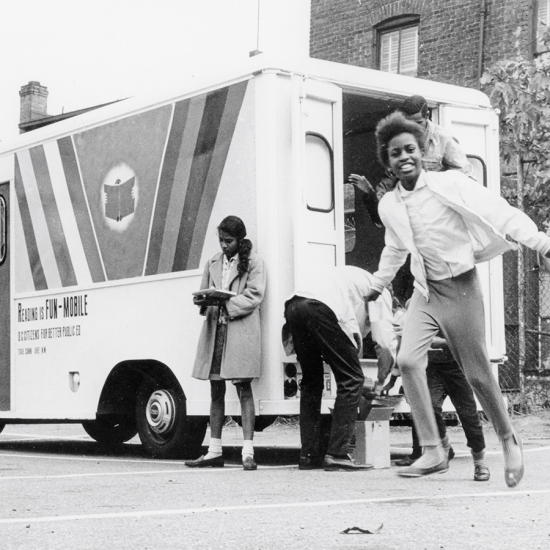 1960s
Reading Is Fundamental (RIF) is founded by Margaret McNamara, launching a children's literacy movement that's made an indelible impact and created a lasting legacy. 
1966
In May 1966, Margaret McNamara has an idea to get free books into the hands of Washington, DC students: books they would choose, take home, and keep as their own. On November 3, 1966, the first RIF pilot project kicks off in 3 Washington, DC elementary schools. 
1967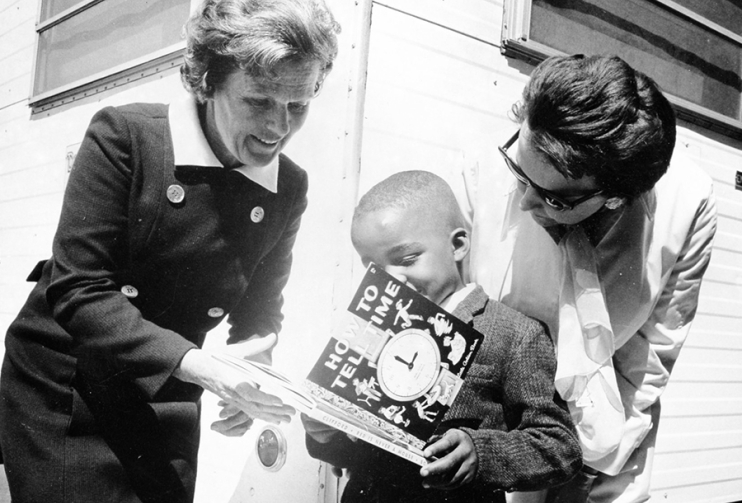 Launch of the RIF Bookmobile expands RIF beyond schools to reach children in places such as community centers, day care facilities, and even laundromats.   
1970s
RIF experiences rapid growth, securing significant funding to expand our programmatic work, most notably from a federal government grant and the Ford Foundation. 
1976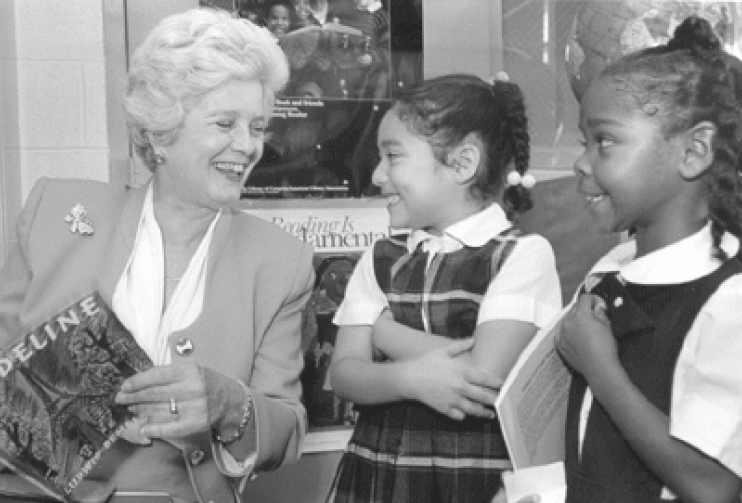 RIF receives our first federal contract, making it possible for us to match local funds for the purchase of books and launching a 3-decade partnership with the federal government through the nation's Inexpensive Book Distribution Program. 
Ruth Graves served as President and CEO for over 20 years (1976-1997). Under her leadership, RIF expands from serving just over 300,000 children annually to more than 3.7 million children, with an expanded focus on reaching children in a multitude of settings including Native American reservations, hospitals, and GED programs.  
1977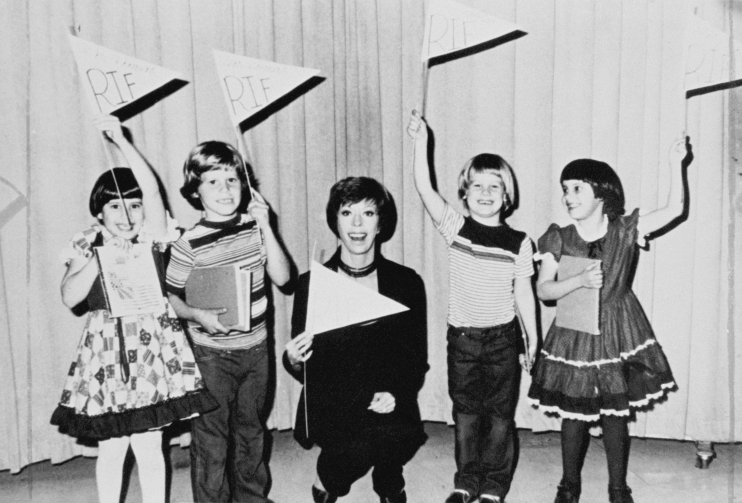 RIF produces public service announcements with Carol Burnett on television and Arthur Ashe on radio, which are still well-known to this day. Arthur Ashe joins RIF's National Advisory Council, supporting RIF in this capacity until his passing in 1993.  
1978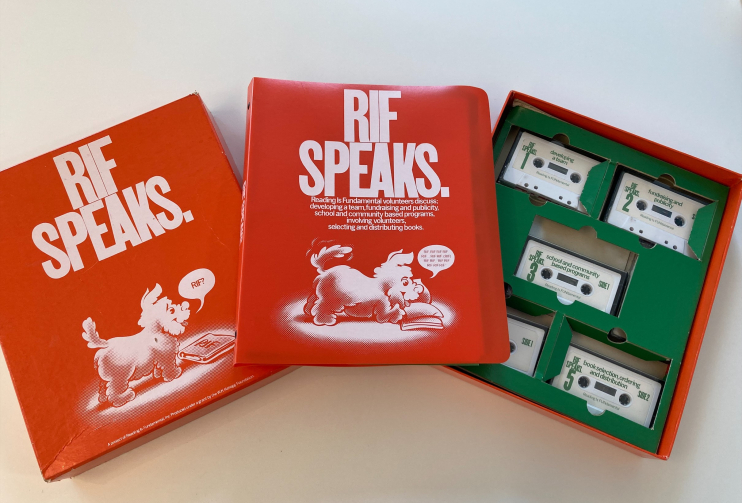 Through a grant from the W.K. Kellogg Foundation, RIF produces "RIF Speaks," a volunteer engagement and program planning kit featuring brochures and audio cassettes. 
1979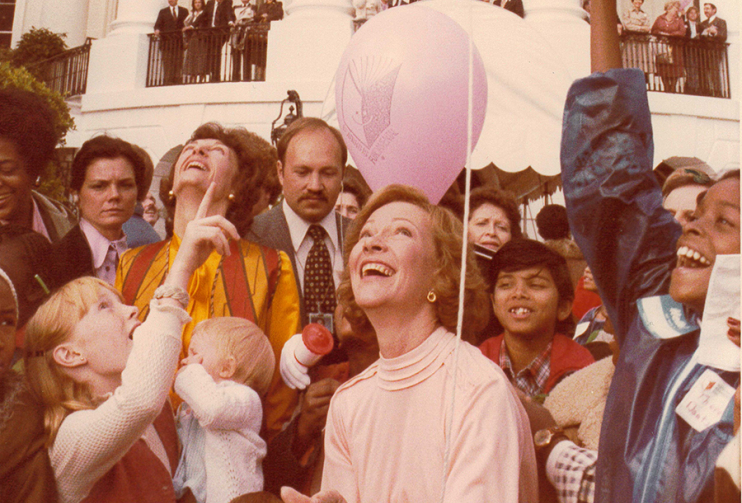 In conjunction with the International Year of the Child, First Lady Rosalynn Carter and daughter Amy host the first RIF National Reading Is Fun Day at the White House. Special guests included Carol Burnett, John Chancellor, Arthur Ashe, Maurice Sendak, and numerous students. 
1980s
Notable figures and organizations join the RIF mission, including Barbara Bush and Oprah Winfrey. There is significant growth in public support as RIF gains momentum in the press and broad-scale awareness among the public. 
1981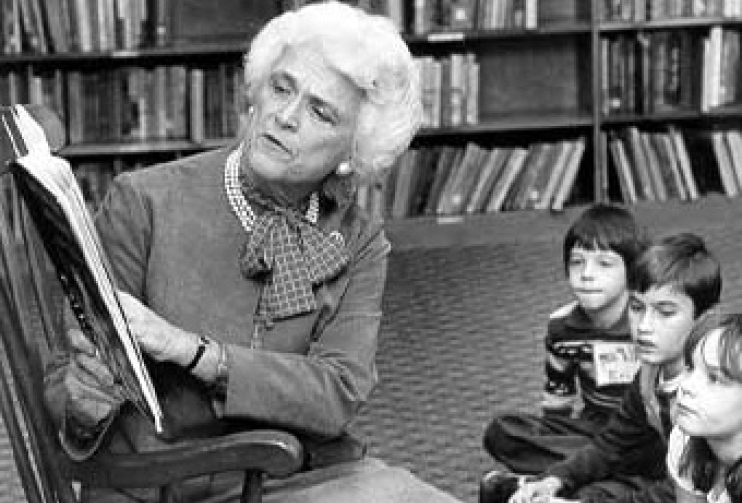 Barbara Bush joins RIF's Board of Directors in 1981 and transitions to becoming a member of the National Advisory Council in 1990, ultimately serving until 2001 as an active member of RIF's governing bodies. 
1982
1987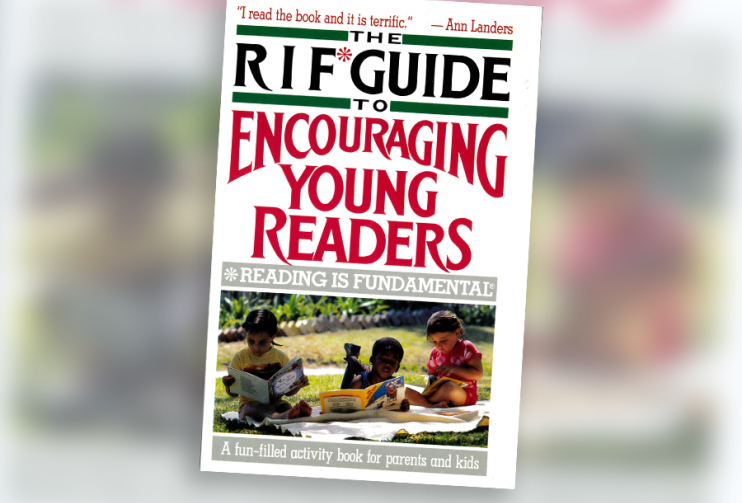 "The RIF Guide to Encouraging Young Readers," containing hundreds of at-home activities and other suggested resources to help parents encourage their children's reading, is published by Doubleday. 
1988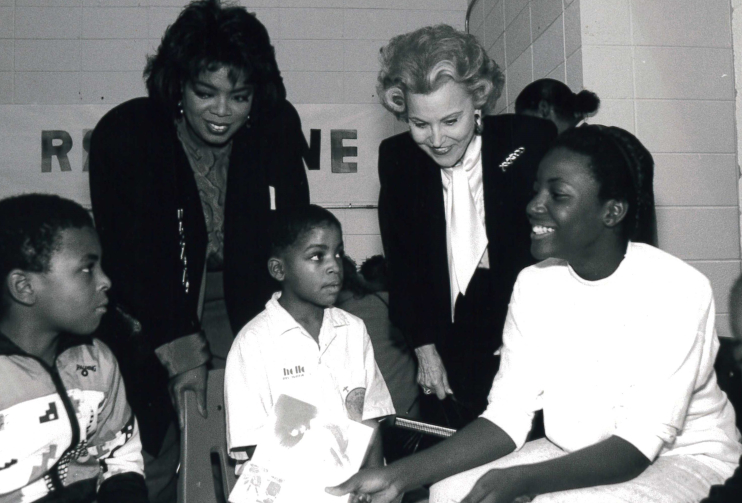 Oprah Winfrey joins RIF's National Advisory Council, serving for 6 years and championing RIF's service to families in homeless shelters.
1991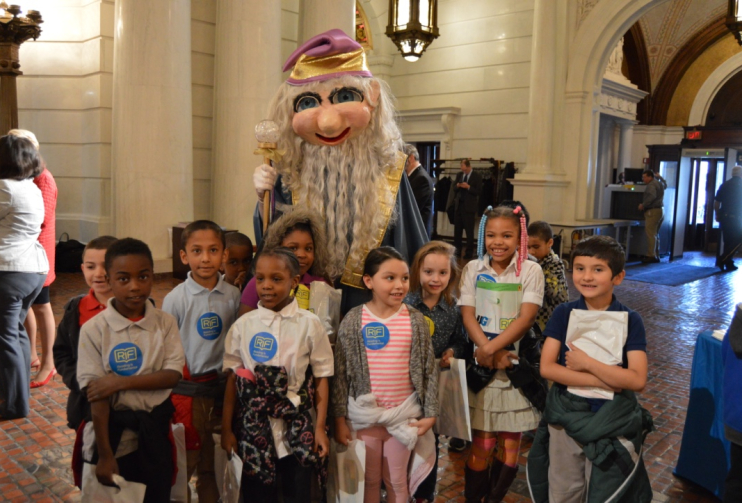 UGI Corporation begins its support of RIF's work, focused on first graders in the state of Pennsylvania. In its first year, the program reaches 8,700 first graders throughout 20 school districts. The program is notable for its employee engagement at book distributions throughout the school year and to date, continues to reach 1st grade students across Pennsylvania.   
1992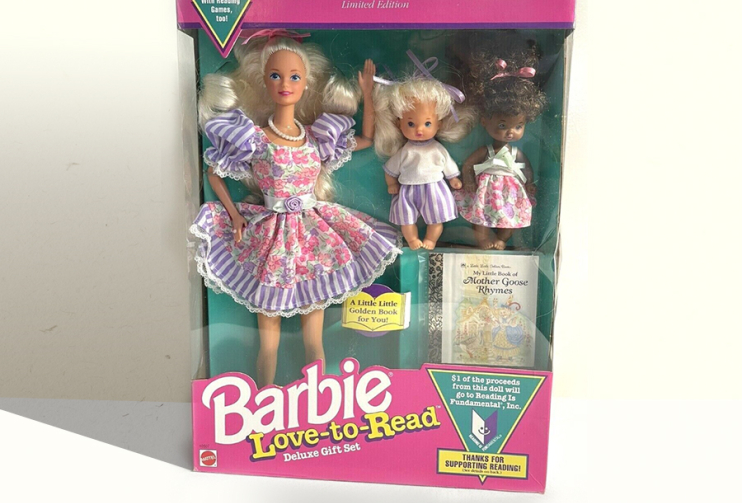 Mattel launches its Love-to-Read™ Barbie® gift set featuring Barbie along with 2 toddler dolls and a mini book of Mother Goose rhymes. Sales of the doll in Toys "R" Us stores benefit RIF through 1994. 
The U.S. division of Nestlé launches a partnership with RIF that will go on to span 3 decades and includes activations like Share the Joy of Reading, a national reading campaign including pop-up events with actresses Sarah Michelle Gellar, Kate Beckinsale, and Maria Menounos leading read-alouds. The partnership also launches the Very Best In Youth (VBIY) program to honor young people. Nestle USA  raised over $5.4M and supported more than 500,000 children with 1.5 million books.  
1995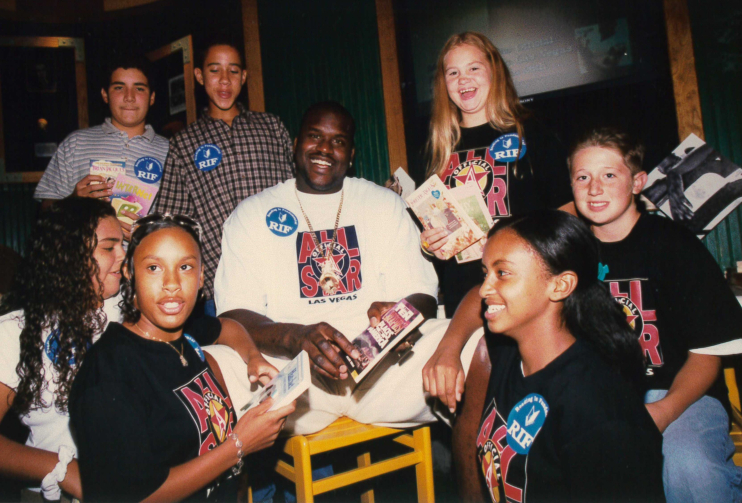 The National Basketball Association and RIF release their first national public service announcement starring Shaquille O'Neal. The announcement airs during the NBA playoffs.   
1996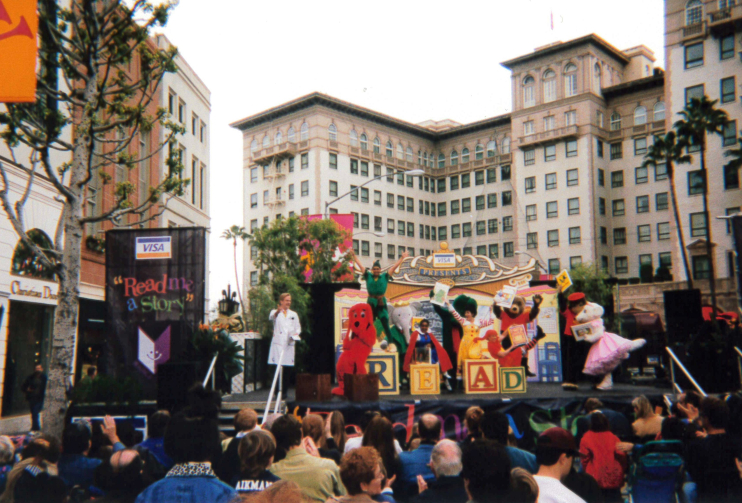 RIF partners with VISA in their "Read Me A Story" campaign, a touring children's show featured at malls, RIF program sites, and other local sites. The campaign was VISA's big holiday promotion and included various characters from children's books. Danny Glover served as the celebrity spokesperson and over $1 million was donated to the RIF through the program.  
1997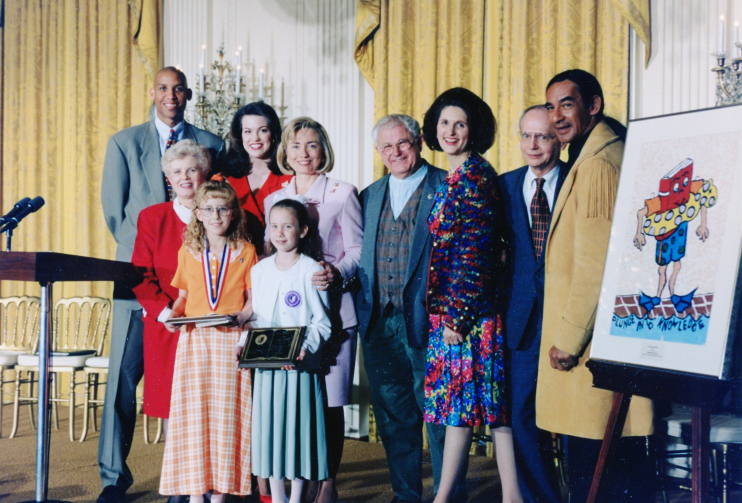 In April, First Lady Hillary Rodham Clinton presents the awards honoring the 1997 RIF National Poster Contest Winner and the National RIF Reader.  
2000s 
RIF leans in to more actively supporting diverse, multicultural communities and launches a partnership with Macy's, who remains a flagship partner to this day. 
2001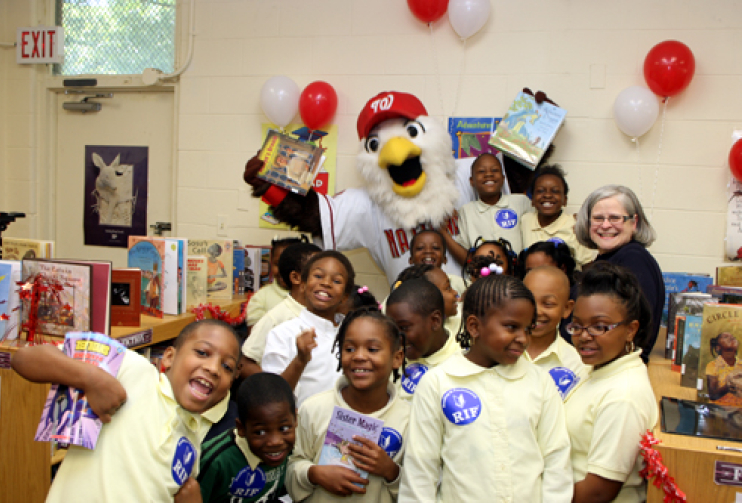 RIF and The Coca-Cola Company join forces to promote the importance of reading in America's homes, classrooms, and communities through the "Reading Takes You Places" program. The multi-year, multi-million-dollar initiative reached millions of children nationwide through Library Classroom Collections, StoryTravelers—a traveling bookmobile, the RIF Reading Planet section of RIF's website, and Ingenuity Grants for community building to motivate children to read. 
Carol Hampton Rasco joins RIF in 2001. She serves as RIF President and CEO for 15 years until 2016, leading a vast expansion of federal funding, increasing RIF's emphasis on research-driven programs and initiatives, and expanding RIF's service to Black, Hispanic, and Native American children. 
2003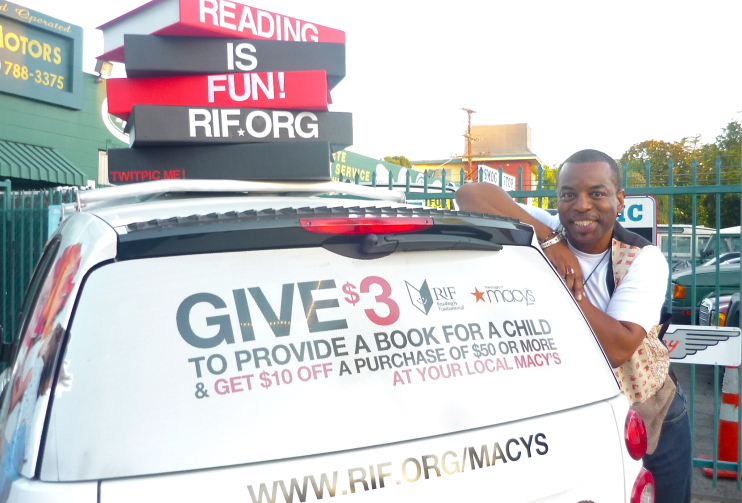 RIF launches a regional partnership with Macy's, that has now become a national program that continues to have lasting impact for children across the country. From the creation of the Multicultural Literacy Project, an initiative to provide books and motivational activities targeted towards Black, Hispanic, and Native American children, to rebuilding a school library in Puerto Rico destroyed by a hurricane, this award-winning partnership now spans 2 decades and has raised over $46 million to fight the literacy crisis in America. 
2004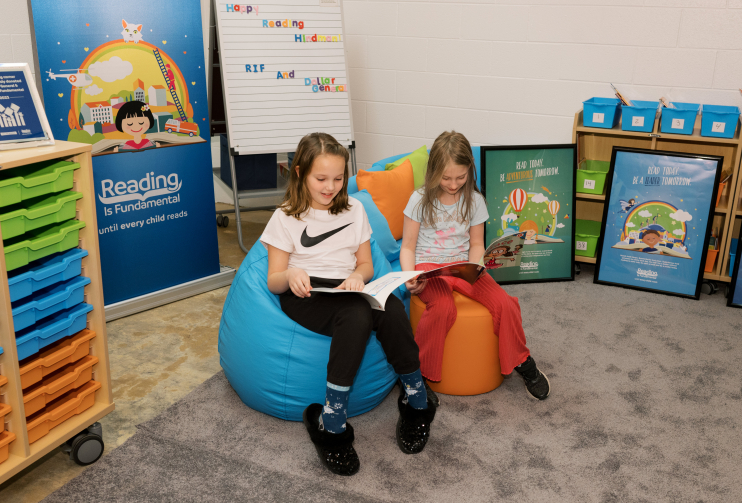 Dollar General makes an initial 3-year pledge to support RIF in 49 schools, serving nearly 20,000 children. Our work together continues to this day, supporting students in communities across the country through book distributions, library rebuilds, and the funding of critical literacy resources and online platforms.   
2006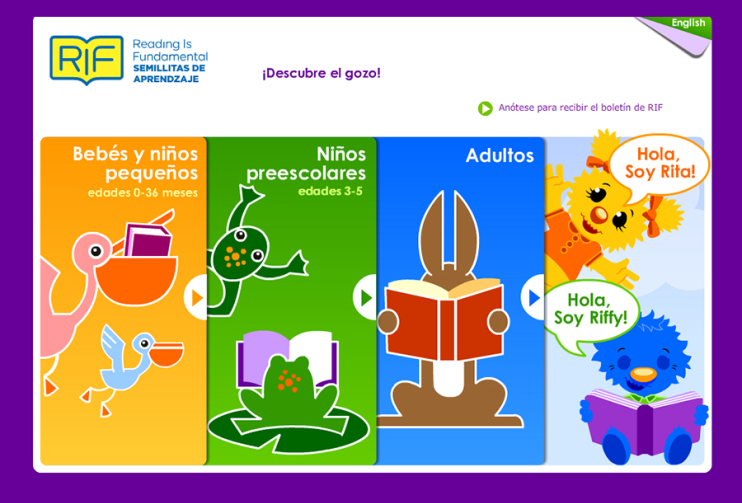 In celebration of Hispanic Heritage Month, RIF partners with LeapFrog to launch new bilingual resources on RIF's website and to provide over $100,000 worth of LeapPads and Spanish/English books to children across the country. 
2008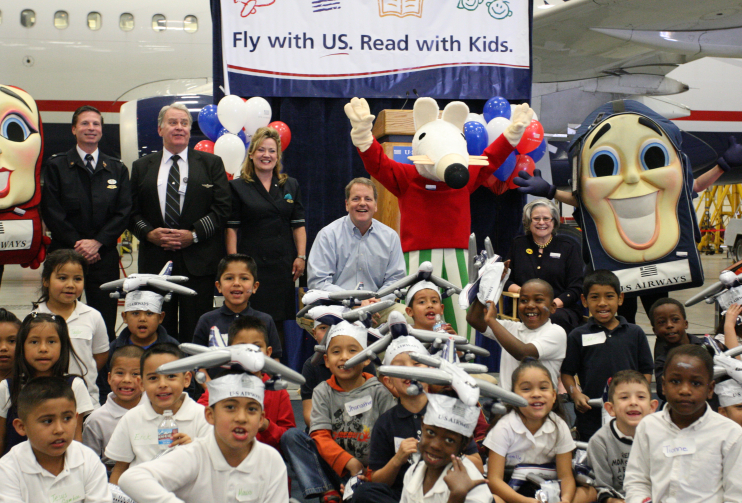 RIF and US Airways launch "Fly with US. Read with Kids.," a campaign to help children nationwide discover the joy of reading through the Read with Kids Challenge, a 3-month online challenge in which over 16,000 participants log 3.8 million minutes of reading with children. The campaign also included US Airways support for RIF program sites in designated locations across the country. 
2009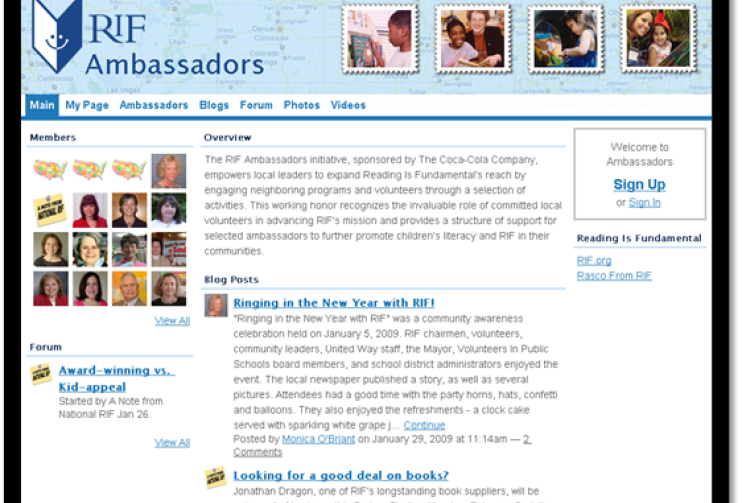 RIF establishes our Ambassadors initiative, sponsored by Coca-Cola. The Ambassadors program honors one RIF program volunteer from each state and fosters the sharing of best practices across programs. Each Ambassador is granted funding to host an annual gathering of volunteers in their geographic area.  
2010s
RIF focuses on diversifying our funding streams after the loss in 2011 of our annual federal grant. Federal funding is reignited through a large-scale government research grant (IAL) that leads to the development of Read for Success, one of RIF's current reading programs.   
RIF celebrates our 50th anniversary with a new CEO, Alicia Levi, convenes our nations' corporate, community, and educational literacy leaders with RIF's first National Reading Coalition, and marks a decade of significant fundraising and partnership growth.  
2012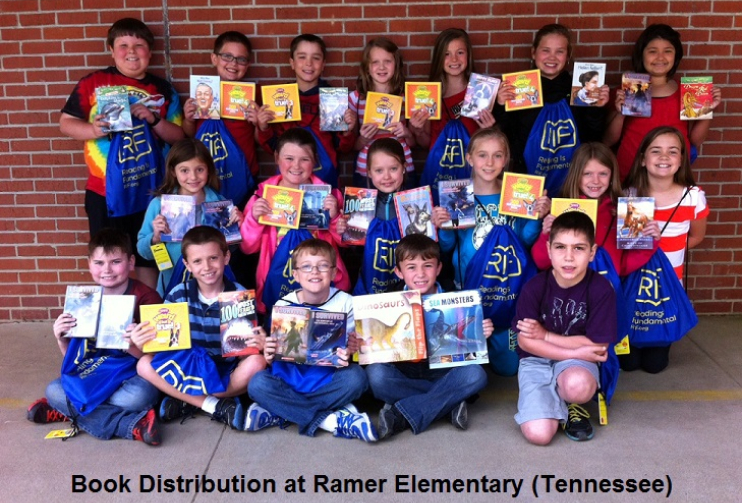 RIF is awarded a two-year, $9.8 million Innovative of Approaches to Literacy (IAL) grant from the U.S. Department of Education which funded the research that serves as the foundation for the creation of RIF's research-backed supplemental reading program, Read for Success. 
2014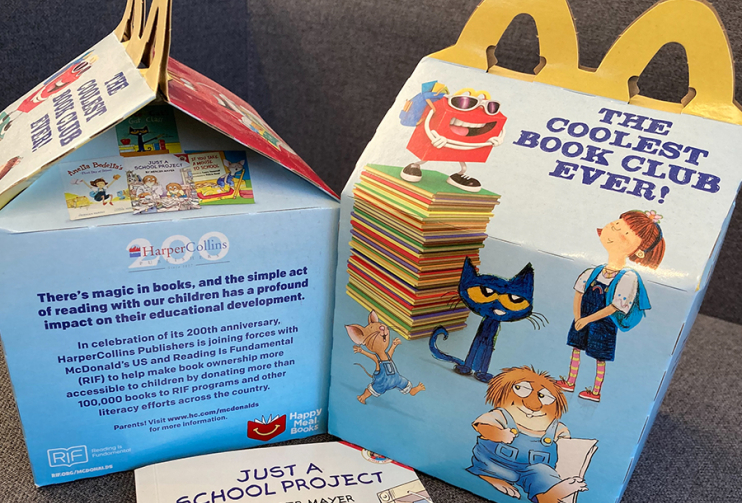 McDonald's and RIF first partner to distribute more than 20 million books in Happy Meals during a 2-week period, with an additional donation of 100,000 books to children at RIF program sites across the country. We continue to collaborate annually on a Happy Meal promotion that provides free books.  
2016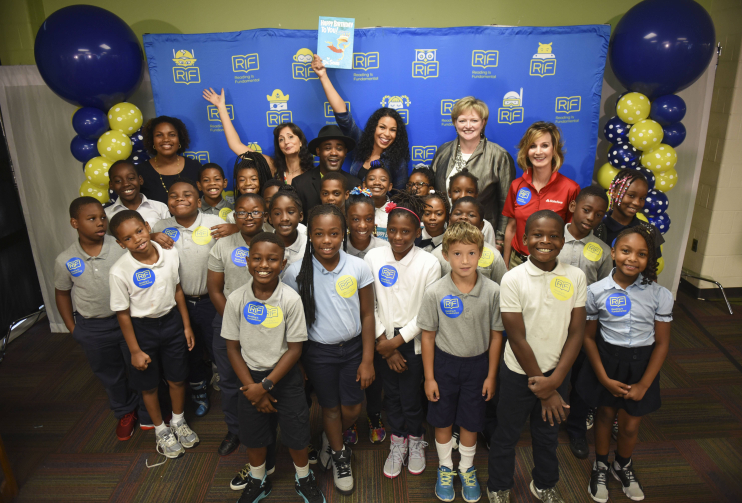 Current RIF President and CEO Alicia Levi joins RIF as we celebrate our 50th anniversary with a special Gift of Reading Gala and a reading event at one of the DC schools where RIF was first founded, Amidon-Bowen Elementary, featuring acclaimed singer Jordin Sparks. This was the first RIF book event attended by Levi.   
2018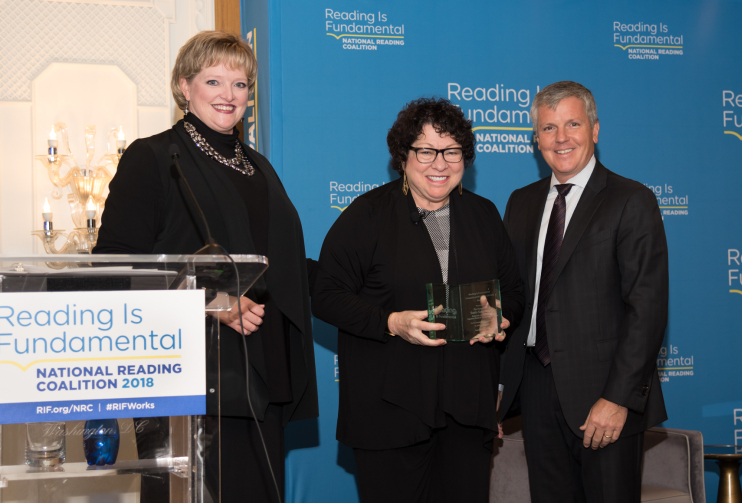 RIF hosts the first National Reading Coalition, gathering leaders from business, education, nonprofit, and government to address the nation's literacy crisis and its impact on the workforce with keynote speaker Dane Linn, Vice President, Business Roundtable and honored guest United States Supreme Court Associate Justice Sonia Sotomayor sharing her book, Turning Pages.  
RIF is recognized for our innovation and national literacy impact by the Library of Congress and named winner of the 2018 David M. Rubenstein Prize. 
Martha and Arthur Goldsmith, leave RIF a transformative bequest gift of over $2M. As career librarian and longtime RIF volunteer, respectively, the Goldsmiths did so much to further literacy and their legacy lives on through RIF's work. 
2019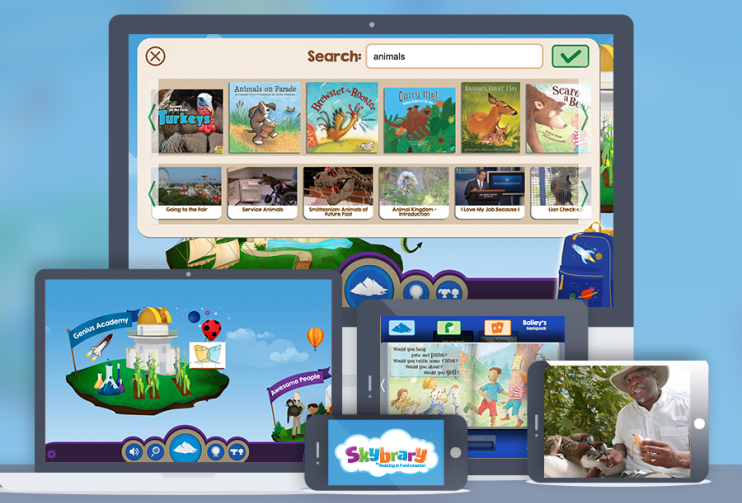 LeVar Burton, a longtime literacy champion and RIF supporter, generously gifts Skybrary, an award-winning digital library of almost 1,000 eBooks and hundreds of real-world video field trips to RIF, enhancing RIF's program offerings to now include print and digital books. Skybrary is available free to Title I classrooms. 
International Paper supports RIF by sponsoring Books for Ownership programming to support 11,000 first graders, launching the beginning of a multiyear partnership that has deep impact in communities nationwide to this day. 
2020s
RIF addresses COVID-19 by quickly adapting to ensure children receive books and reading resources during the pandemic, showcasing our flexibility to deliver on our mission.   
RIF launches a new strategic vision focused on awareness, innovation, and sustainability and begins a national partnership with Amazon, bringing employee engagement opportunities to a new level of impact. 
2020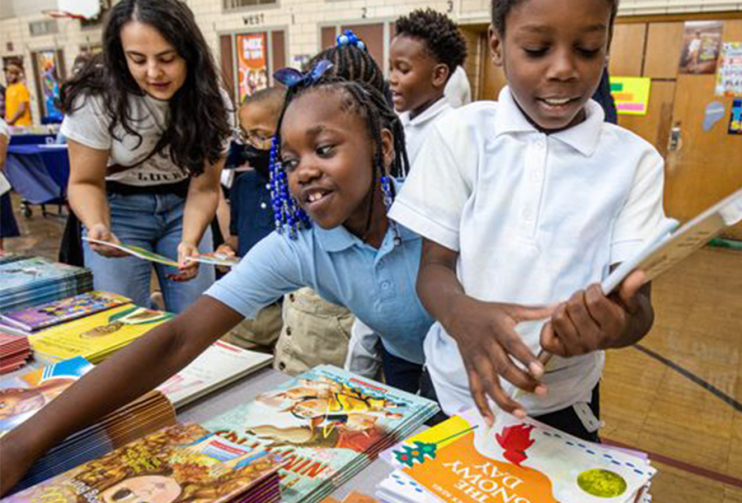 RIF launches our Race, Equity, and Inclusion Initiative, championing racial justice and equity through the power of literacy, focusing our commitment to support under-resourced communities of color, amplify diverse authors and illustrators, and launch an online destination of resources and best practices for educators and families. Macy's is a founding partner in this critical work. 
In light of the COVID-19 pandemic and learning disruptions, RIF partners with multiple companies, such as the PwC Charitable Foundation, Fidelity Investments, International Paper, UGI, and the Pitney Bowes Foundation, to pivot RIF's approach and get even more books and resources to children during virtual learning. 
2021
RIF launches an exclusive giving society, The 1966 Society, to honor the dedication and financial commitment of RIF's most ardent and generous supporters. Lynda Johnson Robb, Founding Board Member of RIF, is named honorary chair of the Society and Christy Moberly, former Board Member, is named chair.   
Through a national expansion of our partnership with Amazon, RIF engages employees across the country to deliver more than 80,000 books to 27,000 children in more than 200 Title I schools. The partnership continues to grow today through empowering employee volunteers to spread the joy of reading by supporting their local schools nationwide. 
2022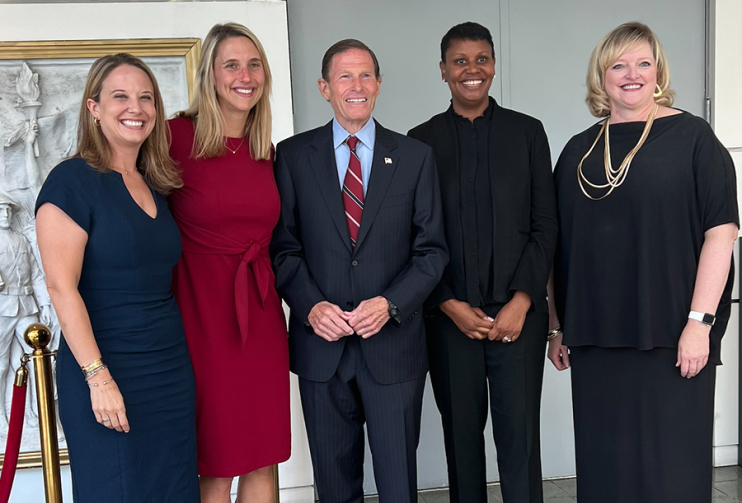 RIF receives new federal support: 3 grants through the Congressionally directed spending process to bring books to students across three states as well as support through the AmeriCorps VISTA program to further expand RIF's Race, Equity, and Inclusion initiative in 5 cities across the U.S.  
Make a gift that closes equity gaps and opens doors
Donate to RIF to ensure that every child has access to books they need to experience the joy of reading, the path to becoming a skilled reader and uncovering opportunities.