Corporate Partner Spotlight: Amazon
Amazon and Reading Is Fundamental (RIF) have come together to inspire the joy of reading in children across the country—in communities where Amazon employees and customers work and live. Together, we are creating skilled readers and fostering a lifelong love of reading.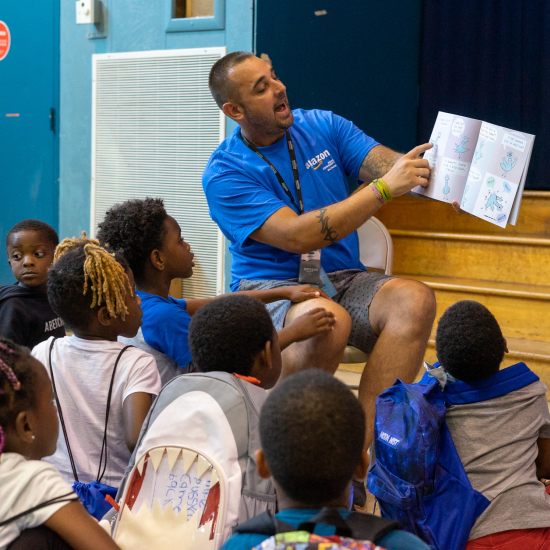 Innovative, scalable employee volunteerism with a local impact
Amazon and RIF's partnership highlights our unique ability to understand a partner's goals and provide actionable solutions that make a measurable impact. We work together through a variety of Amazon volunteer-led reading initiatives, highlighting the importance of community involvement in driving reading access, choice, and engagement to drive reading proficiency.  
120,000+
Books and resources donated to schools nationwide since the start of this partnership. 
200
Schools served through a month-long, employee nationwide engagement in 2022. 
4,000+
Amazon employees have participated in RIF volunteer programs.
---
Amazon corporate partnership highlights
Through its partnership with Amazon, RIF engages Amazon employees in literacy solutions to support children in their local communities. From Literacy Kit assemblies to book celebration events, RIF and Amazon offer opportunities for Amazonian's to participate both in-person and virtually to support their community. 
2023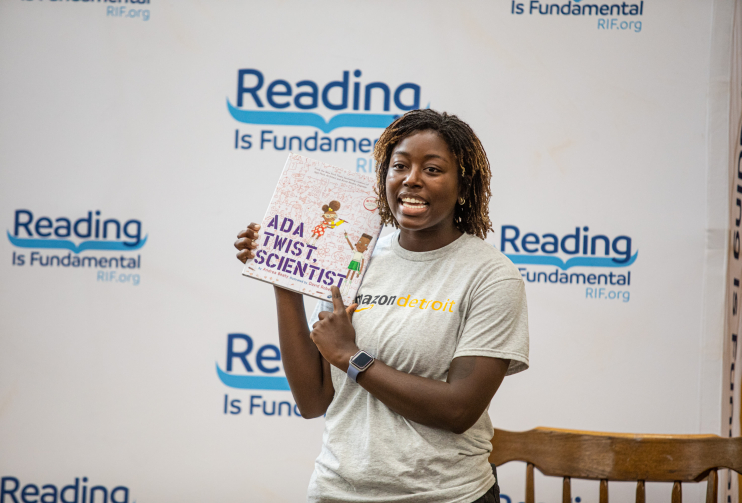 Through this partnership, we launched a Seattle-focused initiative, which served nearly 10,000 students across 20 schools in both the Seattle Public School and Bellevue School Districts. This Amazon employee engagement-focused effort provided a variety of opportunities for Amazon employees to volunteer through both in-school and virtual activities during the month of June. This partnership connected Amazon with the community around literacy and provided students with new books and resources for the critical summer months, when school was out of session, and they were at risk of learning loss.
2022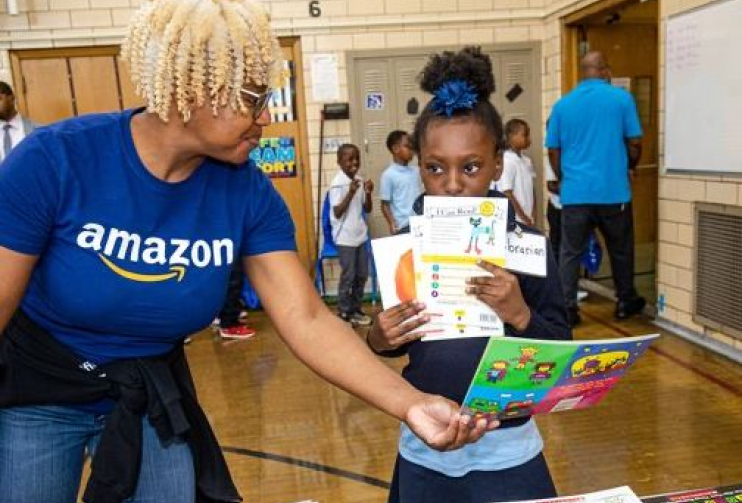 We partnered on Amazon's annual "Global Month of Volunteering" initiative, which provided opportunities for distribution center employees nationwide to work with RIF and build relationships with local schools in their communities. This initiative–which took place in conjunction with the back-to-school timeframe–enabled RIF and Amazon to provide over 80,000 books and reading resources to over 47,000 students in more than 200 communities through both in-person and virtual volunteer activities.
Our nationwide network
We operate in all 50 states, DC, and U.S. territories, offering numerous exciting ways for corporate employees and customers to volunteer and give back where they work and live.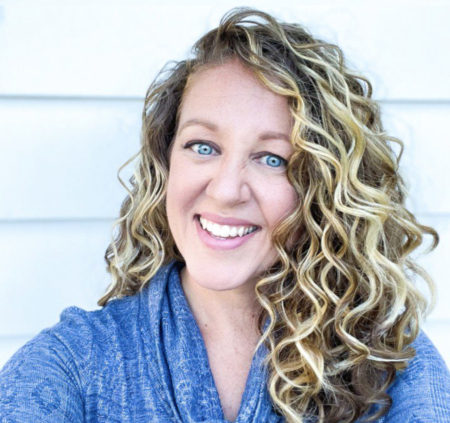 "We leveraged the broad scale of our Ops network and passionate volunteers to inspire the joy of reading, all through access to books. I'm still smiling after spending time with these energetic kids and seeing their faces as they picked out brand new books to take home. This has been a rewarding project to lead as a community practitioner, an Amazonian, a reader, and a mother of young students."
Jessica Margarit
Head of Ops Community Engagement
Amazon, Americas 
The power of partnership
Reading Is Fundamental is grateful to our corporate partners, whose commitment to tackling the literacy crisis means that more children will become skilled readers, the foundation for discovery, growth, and opportunity. Thank you for making this important work possible.
"Amazon is one of the most innovative companies in the world. They have brought that innovation to our partnership with every activation. Together, we have become even more creative in how we provide resources to our school partners and how we support volunteerism. We've been able to provide over 45,000 students nationwide with diverse books and resources and build relationships between over 4,000 Amazonians and local schools—this is just the beginning!"
Bryan Klopack
Senior Vice President, Development
Reading Is Fundamental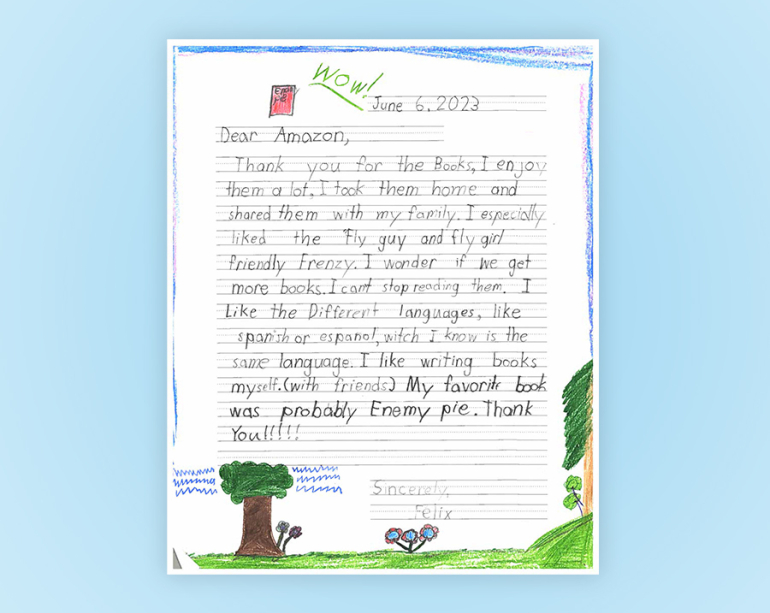 Customer engagement that makes a difference
Amazon customers have been able to purchase books for RIF programs directly through Amazon's website, most recently through Amazon Wishlist. This has resulted in thousands of books being provided to children in under-resourced communities.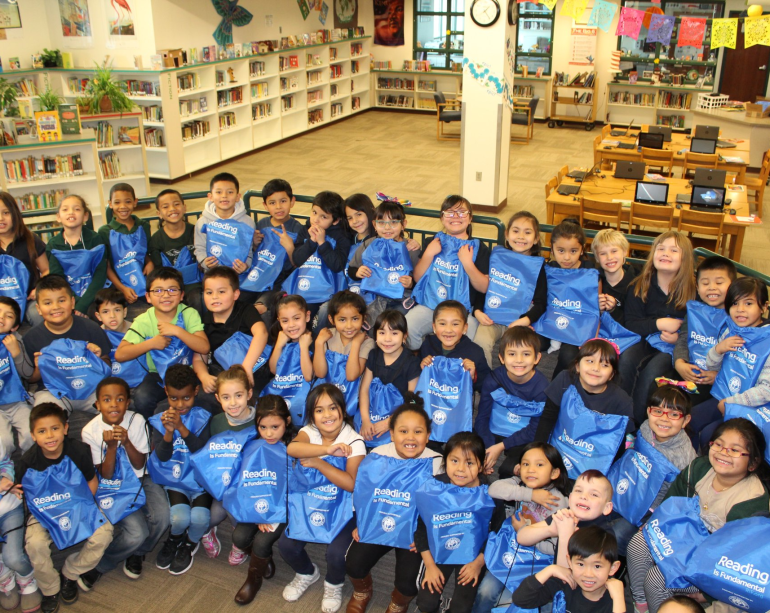 Ways to partner
There are many ways your organization can get involved with RIF! Explore how your company can support children's literacy through a custom corporate partnership.