Blog
Check back often for our latest updates and news!
08/02/21
Macy's Gives Back
When I think of Macy's, the obvious comes to mind: new school clothes, a great shoe sale, and the traditional Thanksgiving Day parade. And just as strongly, I relate Macy's to a deep, longstanding commitment to giving.
For 18 years, Macys' has partnered with Reading Is Fundamental (RIF) to support children's literacy and drive local impact; their dedication to philanthropy, to our nation's young readers, and to our collaboration is remarkable. With Macy's support, RIF has put over 14 million books into the hands of children across the country!
That's why I am proud and excited to share with you about this year's partnership with Macy's. We are thrilled to be kicking off the Macy's Gives Campaign for Reading Is Fundamental (RIF). From August 1-31, 2021, Macy's customers nationwide have the opportunity to round up their in-store purchases to the nearest dollar (up to $0.99) or donate online to help provide books and literacy resources to children across the country. All month, Macy's shoppers around the country can support our mission to provide books and literacy resources to kids who need them most!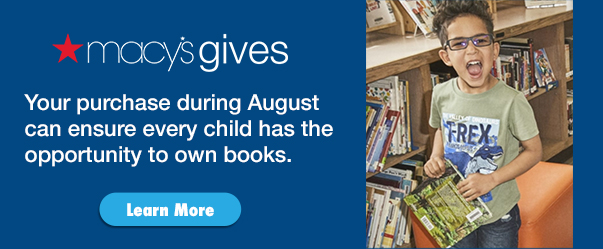 Macy's is passionate about community and working with RIF to address the nation's literacy crisis. As kids are headed back to school, Macy's wants to support families to make sure they are looking and feeling their best. Through this campaign, you can support them too and help address our children's literacy needs when you shop Macy's, joining us to ensure all children have the opportunities that literacy provides. For campaign details, visit https://www.macys.com/s/macys-gives.
RIF is grateful for Macy's' years of partnership and we are thankful to its leaders and store associates who actively embrace our cause and are eager to support us as we impact children's lives, one book at a time.
Happy shopping and happy reading,
Alicia Levi
President & CEO