RIF in the News
Check out RIF's signature campaigns, events, and activities making news.
09/15/2016
Reading Is Fundamental Celebrates 50 Years of Inspiring Children to Read
Celebrities Jordin Sparks and Tray Chaney Along with Author Tara Lazar Take Part in Anniversary Festivities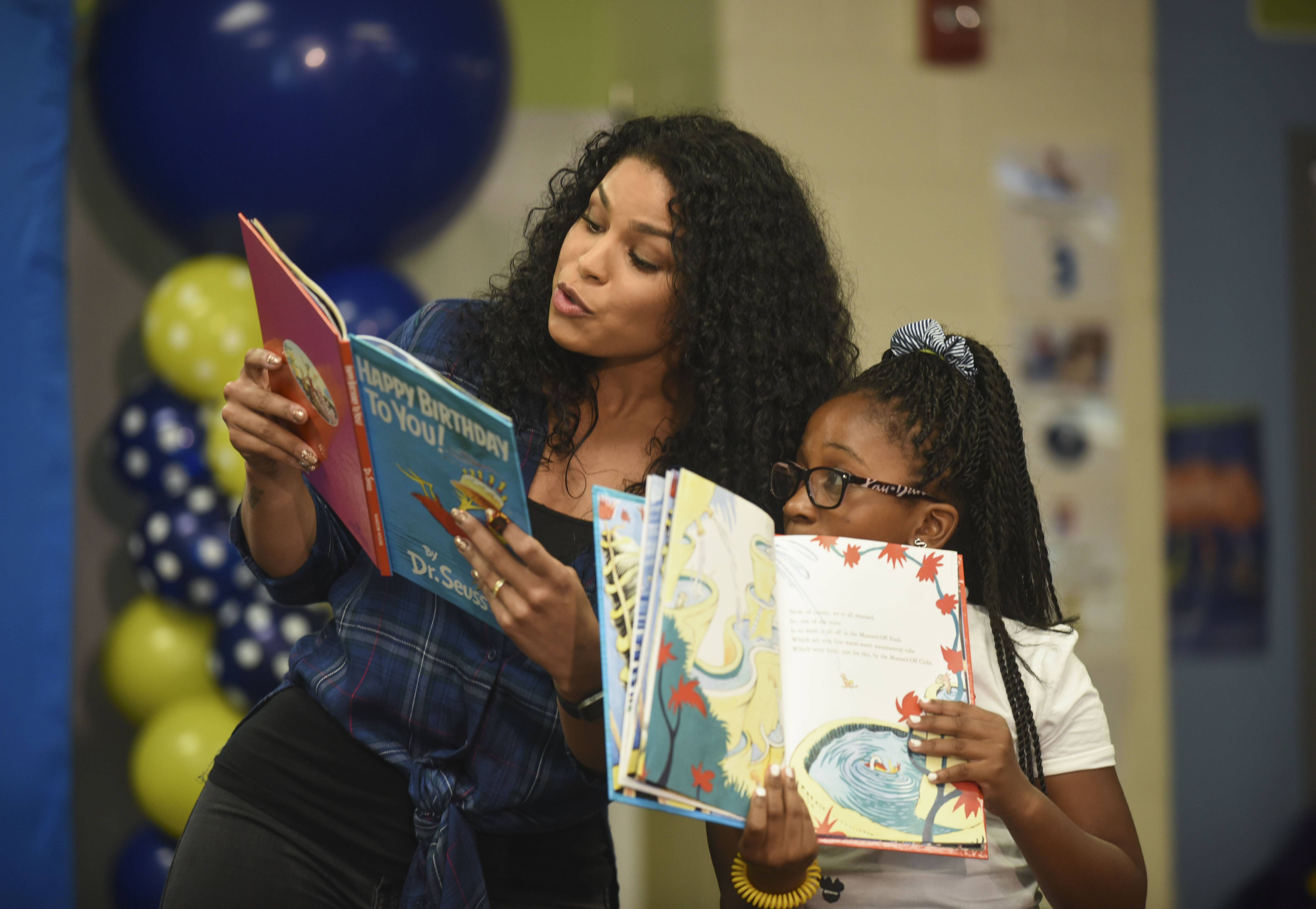 Washington, D.C. – September 15, 2016 – Reading Is Fundamental (RIF), the nation's largest children's literacy organization, celebrated its 50th anniversary of inspiring children to read, learn and grow by hosting a virtual birthday party at Amidon-Bowen Elementary School in Washington, D.C. Award-winning singer and actress, Jordin Sparks; passionate advocate, actor and musician, Tray Chaney; and notable children's author, Tara Lazar joined D.C. Council Members, parents, and DC Public School officials to commemorate the milestone. The event featured live performances, a Happy Birthday sing along, a children's story read aloud and birthday cake for fourth grade students. In addition, all of the students at the school received birthday-inspired activities and free books, including Dr. Seuss' Happy Birthday to You! and Tara Lazar's Normal Norman. The anniversary celebration was sponsored by State Farm®, who made a $10,000 donation for books for the school library.
"Since 1966, RIF has been an important and influential voice in support of children's literacy and, in partnership with a grassroots network of hundreds of thousands of RIF volunteers in schools and communities nationwide, we have impacted the lives of more than 40 million children," noted Alicia Levi, president and CEO of Reading Is Fundamental. "Communities and government officials across the country took part in today's celebration by issuing a RIF Day Proclamation to recognize the amazing impact RIF has on the lives of children."
The story of RIF began a half a century ago with a simple yet innovative idea – deliver free books to children who don't have one to call their own. Since Margaret McNamara first founded RIF in 1966, the organization has become an important and influential voice in support of children's literacy.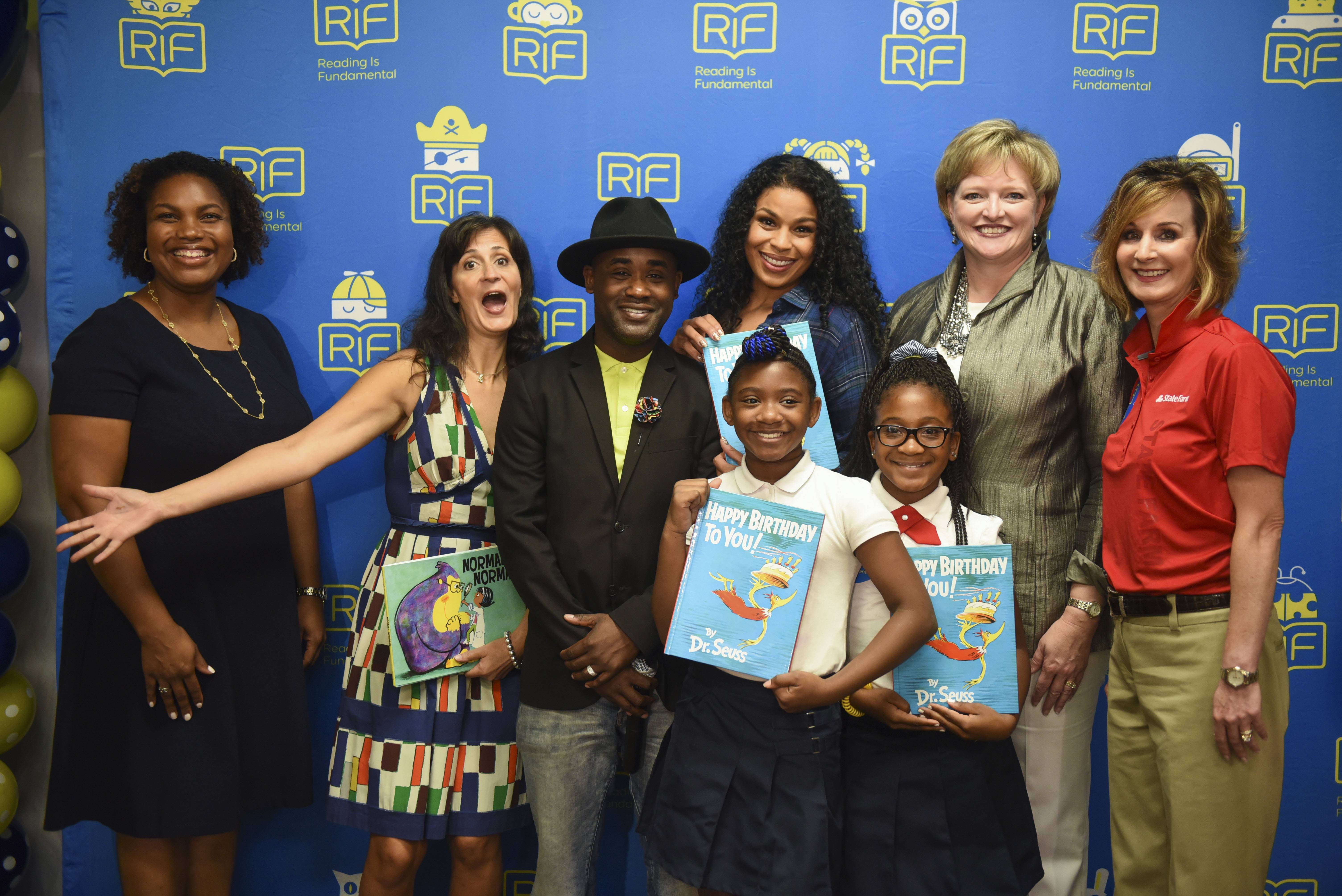 "I love to read books and as a child, I would stay up way past my bedtime and read in my bed with a flashlight," said Jordin Sparks. "Having the opportunity to inspire the students at Amidon-Bowen and others of all ages who tuned in proves to show just how much I believe in Reading Is Fundamental's mission. I am incredibly honored to support them."
 "I am a huge fan of Reading is Fundamental and the work they do to improve reading skills for kids," noted actor and musician Tray Chaney. "As a father, I know first-hand the importance of reading aloud to children and helping them discover the adventures found in a good book. I truly believe we can all make a difference in the lives of young people simply by reading together."
 "As a children's author, I know not every child has a book at home to read. That's why it was so much fun to see the kids dive in to the free books they received as part of Reading Is Fundamental's 50th anniversary celebration," said Normal Norman author, Tara Lazar. "Ensuring kids have access to books is vitally important to setting them on a path to read and learn and I'm so glad to be part of RIF's rich legacy."
 For schools and community organizations who were not able to join in the live broadcast, a recorded version is available on RIF.org/50. Parents, teachers and program coordinators can continue the emphasis on literacy by downloading free birthday-theme literacy activities to extend learning. In addition, book lovers can promote reading by taking an online pledge to read books to a special child in your life and downloading RIF's free 50 e-book library provided by ustyme. Normal Norman books were supplied by Sterling Publishing and Happy Birthday to You! books were supplied by Penguin Random House to all the students at Amidon-Bowen to own and take home.
 A full array of photos from the live broadcast and RIF Day events can be viewed via Flickr. Photo credit:  AP Images/Kevin Wolf for Reading Is Fundamental.
About State Farm
The mission of State Farm is to help people manage the risks of everyday life, recover from the unexpected, and realize their dreams. State Farm and its affiliates are the largest providers of auto, home and individual life insurance in the United States. Its 18,000 agents and more than 65,000 employees serve more than 83 million policies and accounts – nearly 81 million auto, home, life and health and commercial policies, and nearly 2 million bank accounts. Commercial auto insurance, along with coverage for renters, business owners, boats and motorcycles, is available. State Farm Mutual Automobile Insurance Company is the parent of the State Farm family of companies. State Farm is ranked No. 35 on the 2016 Fortune 500 list of largest companies. For more information, please visit http://www.statefarm.com.
About Reading Is Fundamental
Reading Is Fundamental (RIF) transforms lives through the power of books. By providing children in need with access to books of their choosing, RIF empowers young minds to embrace the world of reading and develop a love of learning. As the nation's largest children's literacy organization, RIF has provided more than 412 million books to 40 million RIF kids over 50 years, inspiring generations to read, learn and grow. Sign up for our newsletter at www.rif.org and follow us on Twitter to learn more.