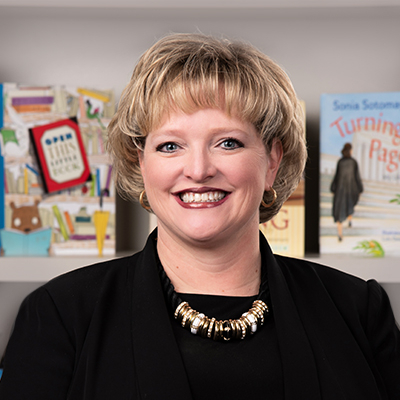 Alicia Levi
President & CEO
Alicia Levi currently serves as President and CEO of Reading Is Fundamental (RIF). Over the last five years, Alicia's vision and guidance has led to an increased digital presence offering substantial book resources, a greater depth and breadth of community engagement, growth of program offerings including its eBook library, Skybrary and an enhanced focus on the importance of race, equity and inclusion within children's literacy. During Alicia's tenure RIF reached the milestone of serving its 100 millionth child. Throughout her career, Alicia has been focused on education and has worked to transform the lives of children through smart strategies to improve academic outcomes.
Prior to joining RIF in 2016, Alicia served as Vice President, Education for the Public Broadcasting Service (PBS) and oversaw all of PBS' educational efforts in developing digital education services for PBS, local public television stations, students and teachers nationwide. She was responsible for PBS' strategic partnerships, digital media production, professional development, and other emerging products and services that support the PreK-16 education market.
Under Alicia's leadership, PBS Learning Media became an award-winning and trusted destination for educators and families that aggregates the best of public media, providing an innovative, digital solution for educators looking to leverage media in 21st century classrooms.
Before joining PBS, Alicia served as Vice President, Educational Publishing at Discovery Education, helping design comprehensive educational media solutions for K-12 classrooms. Prior to her time at Discovery, she managed the University of Maryland College Park's Educational Access Channel out of the College of Education.
Alicia is a recognized thought leader in educational media and currently serves on the National Advisory Board for United through Reading and is a former board member of the Partnership for 21st Century Skills. She has spoken on podcasts and panels at events worldwide from the World Literacy Summit to SXSW EDU. Alicia has dedicated her career to ensuring children nationwide have equitable access to educational opportunities.
Alicia lives in Annapolis, Maryland with her husband Frank and 3 children.
FAVORITE CHILDREN'S BOOK