Blog Posts
20 Years of Partnership, Countless Lives Impacted – Catching Up with our Friends at Macy's
This year marks 20 years of partnership between Reading Is Fundamental (RIF) and Macy's. While looking back on the many accomplishments this partnership has achieved in the shared mission to help close the youth literacy gap in the United States, RIF caught up with Michelle Hall, Macy's Director of Social Impact, to reflect on important mission moments and the reasons why Macy's continues to partner with RIF and join our cause to inspire a joy of reading for children nationwide.
Twenty years of partnership is a long time, with many lives impacted through RIF's and Macy's shared efforts to help tackle the literacy crisis in the U.S. With so many monumental moments throughout our partnership, is there one that especially stands out to you?
This partnership has resulted in more than $46 million contributed to RIF and 15 million free books distributed to children over 20 years and reflecting on the importance of that is profound. An activation that stands out is our collaboration on a library makeover in Ponce, Puerto Rico. In 2019 after Hurricane Maria, our local store leadership reached out to let us know that there was a school that needed help after suffering major damage. The school, Escuela Llanos del Sur, is a very important part of the community, having served as a shelter during the hurricane. In the aftermath, the school wrapped its arms around students from other affected schools in the area, which had closed. In partnership with Reading Is Fundamental, our colleagues volunteered to paint, assemble furniture, replace more than 4,500 books and set up new computers for the school. The students were able to enjoy the library as a safe and comfortable place to learn and read.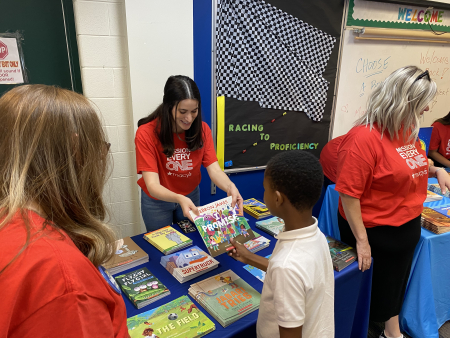 Macy's generosity and partnership throughout the last two decades has truly been amazing and life-changing for many children across our nation. What is it about RIF's mission that continues to inspire Macy's to partner with us?
Reading Is Fundamental has been an incredible partner to us for more than 20 years and is the leading voice for children's literacy. Through our social purpose platform, Mission Every One, Macy's works to empower youth and create brighter futures with bold representation for all. Literacy is a fundamental building block of all of life's essential skills. This partnership directly empowers young people, through resources and access and ensures that all kids learn to read and have access to books.
We just wrapped up another round-up at the register campaign as part of Macy's Mission Every One initiative and our two-decade partnership has raised over $46 million to date. What message do you have for your shoppers who joined our effort to combat the literacy gap and rounded up their change in stores or donated online?
To everyone who donated, I want to express our gratitude. Just this year, we raised nearly $1.3 million for Reading Is Fundamental. Since 2004, we've raised $46 million to provide 15 million books and create over 25,000 literacy resources for kids across the country. We could not have done it without you.
We know that Macy's is strongly committed to creating a more equitable and inclusive future. How do you believe that reading helps enable brighter futures for the youth in our country?
There is a 28-point gap in literacy proficiency between Black students and their White counterparts that has persisted for nearly 30 years. As a founding partner of RIF's Race, Equity & Inclusion initiative, we're committed to closing that gap. By investing in communities that have been historically disenfranchised, we can create better outcomes for everyone.
RIF's Race Equity and Inclusion initiative addresses systemic racism and social justice through the power of books and reading. It is important for young people to see themselves in books and in the authors who are writing the books they read.
The recent library rebuild in Detroit was an amazing opportunity to make a huge impact on a local level. How do you think local impact paves the way for broader national impacts?
Change happens at the local level. By investing in our communities across the country, especially those that are the most under-resourced, we can create a real difference in changing the outcome for our young people and putting them on a path to realize their fullest potential.