Blog Posts
Ask the author: A conversation with author Chris Baron
This blog post is part of our National Reading Month series focused on how reading unites communities and inspires endless possibilities. Read this post from Chris Baron, celebrated author of titles including All of Me, The Magical Imperfect and a new book coming out this summer! Read on to learn how Chris inspires empathy and healing for kids across the country through his middle grades novels.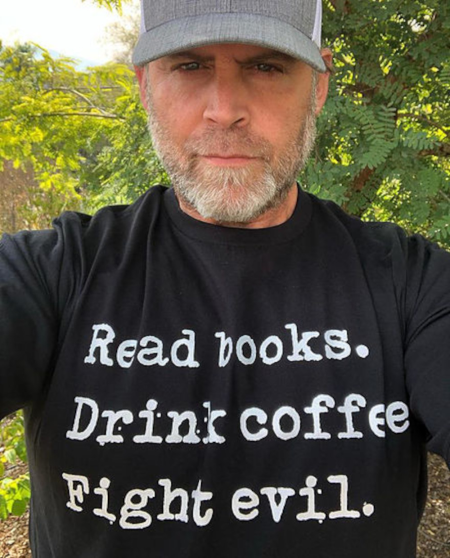 I'm so excited to be a guest author with RIF! Chances are, if you are reading this, RIF has had an impact on you too! When I was a kid growing up, RIF was involved in my neighborhood and my school. They introduced a world of books that helped me find adventure, discover new places, build empathy and perspective, and navigate difficult times. I loved having the chance to read together with friends, and nowadays I have the joy of reading together with my own kids.
1. How did you get into writing?
Even though reading was challenging for me at times, I always loved stories. I wanted to write my own. I wrote to explore the world around me, and I still do. Growing up, I was fortunate to have a wonderful and supportive community of teachers, librarians, and an artistic home, where creativity was nurtured. I know this is not true for everyone. I've met lots of kids who face a more difficult and challenging experience, and I admire them.
When I have the privilege of visiting a school, I always like to show young readers some images of my very first book–The Funny Lion, a "profound novel" (smile) of 5 hand-drawn pages in handwriting that is allllmost legible. I think I must have been about 4 years old when I wrote and illustrated it. It's about a Lion that bumps into a tree, but his friend lets him know that it's okay–that he doesn't have to be embarrassed. The kids I share this with during a school visit are quick to understand that this is about a funny lion, but also about dealing with what it feels like to be embarrassed–that it's okay–that friends can help.
Between then and now I have written and published lots of poems, essays, and books, and more recently, books for young readers. There is one little anecdote I consider a "launch pad" story. When my book of (adult) poetry came out, at the release, I was reading to a theater full of people, and some of the poems were extremely serious. I decided to read some different/lighter poems about growing up, and about my own children. I will never forget what happened after that. I read this poem "First Kiss." Here are just a few lines…
"Fat kids don't have girlfriends. Friends yes, but not kissing, not even in third grade. So imagine my surprise…"
I felt a renewed and connective sense from the audience, but what I remember most was looking out and seeing a good friend of mine, a pretty amazing YA writer who would later become one of my greatest supporters, looking at me wide-eyed from the crowd. After the reading, he ran up to me, grabbed me by the shoulders and said, "Dude, you have got to write a Middle Grade Book!" He gave me a stack of other books to read, and from then on, I read everything I could find. It launched me into writing!
2. What was your inspiration for both of your novels?
My core inspiration for writing all my novels is the chance to share stories about empathy and hope. I want to write books that I would have wanted when I was a kid. Even though I often didn't see myself in the stories, storytelling saved my life. Stories are an escape, but they have truly been mirrors and windows for me all my life — things were not always easy growing up — so reading science fiction and fantasy, poetry, and stories about kids trying to make their way in the world have been instrumental in understanding how to survive and even thrive in this world. It's easy to turn cold and cruel, but storytelling teaches us the essential values of kindness and daring.
Also, there is no doubt in my mind that having children of my own is one of the strongest inspirations for writing. They have such incredible hope, strength, and magic. For them, the world is full of everything that is possible, and they are hungry for stories that let them know more about life backwards and forward through time. At bedtime, they always ask me to tell them a "kid" story—a story from my own growing up. They don't just want a "happily ever after." They want every detail, every nuance, every joyful moment, but also every sad moment. They are listening for how things happen in the world. Stories are how they want to learn.
It was the same for me.
3. Both of your novels are about being bullied or being different in some way and trying to overcome it, why is that?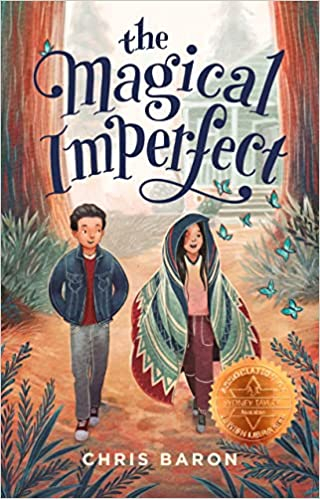 Bullying is far too common. It stands as one of the greatest threats to our mental health and overall well-being. Unfortunately, bullying is something that can occur in some of the most formative times in our lives. Growing up we often encounter bullies or bullying in some form, physically, mentally, emotionally–and we may even bully ourselves. I hope that the books I write explore healing and empathy for the characters, but also for everyone. It's certainly easy to see the bullies as the villains. We like to think of bullies as "those people," or "others," but I think that we are usually more connected to one another than we are separate. Books play an important role in telling the whole story of a character's journey–even the bullies.
In The Magical Imperfect, Malia is called "the creature," because of her severe eczema. It's so difficult for her and her family that she is homeschooled. In All of Me, Ari has been teased and bullied about his weight his whole life. He deals with body image and self-worth. But in both books, friendship and understanding take a central role. Books are incredible for providing the space and breath to explore an entire story from start to finish. Readers get to see how characters-even the bullies- change and grow. The characters become stronger, find boundaries, friendships, advocacy, safe people, and become more of who they are.
4. Was your work inspired on or based on your experiences when you were in your youth?
Coming of age is an important theme in my novels, and I truly believe our best writing comes from writing what we know–mixed with what we hope for and want to understand. So for me, writing books based on my experiences comes naturally.
The LA Times called my first novel in verse, All Of Me, a fictional retelling. I think this is a perfect way to put it. Almost everywhere I have gone and talked about All Of Me, someone has asked me if Ari and his adventures are based on my life. The answer is yes. The story is fictional, but so much of it is my heart and soul and a collage of adventures, my Jewish heritage, and experiences from my own middle school years. Most of all, my personal story is embedded deeply in the spirit of the book where Ari, who is put on a diet after a dangerous incident, starts to question whether this diet is really a good thing after all. Fat-shaming is often different from what we think. In All Of Me, Ari faces real bullies who represent the physical danger of being bullied, but the book also explores the more dangerous landscape of microaggressions, of subtle comments, quiet words, and indirect actions, even from the ones closest to home, that can bring a compounding shame, impacting lives over the long term. This is why I felt so inspired to write a middle-grade novel that has the time and space to explore the story of an overweight, outcast boy who learns what it means to love who he is— as he is.
For The Magical Imperfect, the influences felt even more complex— yet still deeply rooted in my own personal experience. While The Magical Imperfect is not a fictional retelling, there are many connections to the life of my family. In particular, the physical and mental health issues the main characters face are close to home. For me, suffering from anxiety, and for my wife, her severe eczema. The themes of our experiences are threaded into these stories: both the good and very difficult truth of how hard it can all be.
Finally. Immigration and the importance of intergenerational relationships are key parts of The Magical Imperfect. While I didn't immigrate–much of my family on my side and my wife's side did. Most of us know about Ellis Island and the approximately 12 million immigrants who arrived at the Port of New York and New Jersey. But many people don't know that—from 1910 to 1940—the Angel Island Immigration Station in San Francisco served as the processing and detention center for nearly half a million people from China, Japan, South Asia, Korea, Russia, Mexico, Europe (including Jewish people), and the Philippines. There are so many undiscovered stories about these incredible souls. The Magical Imperfect finds its heart here. And I even had the privilege of being a guest with The Angel Island Immigration Station to talk about The Magical Imperfect. You can see that here: AIISF's Author Spotlight with Chris Baron.
5. What advice would you give to young aspiring writers?
I love this question! There are whole books written to answer this, but here are a few things I think are helpful:
READ! Find the books you love: Comics, graphic novels, poetry, even the books that are handed to you. Read them all. Just make time for reading what you love. There are so many kinds of books out there. Librarians and organizations like RIF can really help with this.
Find your people. Even though so much of writing feels like it is done alone, it doesn't have to be. We need community, so find a community of people-a friend group, family, a school club, who share the same interests as you. This will give you the time you need.
Make the time, and do the work. Treat writing (and any creative thing) with value. It's fun! It's important! It deserves your time.
Share it. This can help so much to motivate you to write and create. Share your creation with your community–your family–whenever you feel safe.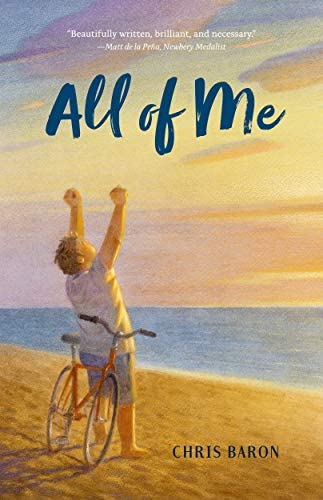 - Chris Baron is the award winning author of Novels for Children including ALL OF ME, an NCTE Notable Book, THE MAGICAL IMPERFECT a Sydney Taylor Book Award Notable Book/ a SLJ Best Book of 2021 & the forthcoming novels, THE GRAY (23) FOREST HEART (24) from Feiwel & Friends/Macmillan, and SECRET OF THE DRAGON GEMS, a Middle Grade novel co-authored with Rajani LaRocca from Little Bee Books (23) and editor of ON ALL OTHER NIGHTS: A MIDDLE GRADE PASSOVER ANTHOLOGY, from Abrams (24), He is also the author of Under The Broom Tree, part of Lantern Tree-which one The San Diego Book Award for Poetry. He is a Professor of English at San Diego City College and the director of the Writing Center. He grew up in New York City, but he completed his MFA in Poetry in 1998 at San Diego State University. He lives in San Diego with his family.