Blog Posts
Building Community by Sharing Books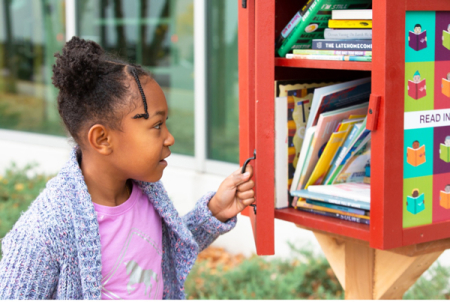 Reading Is Fundamental (RIF) is pleased to share this guest blog post from our friends at Little Free Library, an organization that inspires readers while expanding book access through a world-wide network of book exchange boxes. RIF is delighted to have Little Free Library join us for another year as a promotional partner for our annual six-month reading engagement initiative, Rally to Read 100. This month, we kick off the campaign with our October monthly theme of "community." Read on to discover the ways Little Free Library helps support the communities they serve and then head to RallytoRead.org to learn more about this exciting reading initiative.
Have you ever wondered how those book-sharing boxes you see in neighbors' yards, local parks, and even coffee shops came to be? Little Free Library is a nonprofit organization based in St. Paul, Minnesota. (Yes, there's an organization behind the book-sharing network!) 
Little Free Library's mission is to be a catalyst for building community, inspiring readers, and expanding book access for all through a global network of volunteer-led Little Free Library book-exchange boxes. The organization even developed a free mobile app to help you find Little Free Libraries in your area!
When you create an account in the Little Free Library mobile app, you can favorite libraries you want to visit, check-in at libraries when you visit, noting if you take or share a book, create a route of Little Free Libraries, and more! 
Exploring Little Free Libraries in your community helps you to learn more about your neighborhood and your neighbors and may even help you establish some community connections along the way.
88% of Little Free Library stewards believe their Little Free Library has created community connections, according to a 2023 survey. With over 160,000 registered Little Free Libraries in 120 countries across all seven continents, that's a lot of community connections!
By using the Little Free Library mobile app to find Little Free Libraries in your neighborhood and sharing books in those libraries, you're increasing book access for your neighbors and giving them the opportunity to discover a personally relevant book to read that is not limited by time, space, or privilege. You may even discover a book meaningful to you in the process!
That's why Little Free Library partners with Reading is Fundamental on Rally to Read: it's important for children to learn about community, to feel a sense of belonging for their neighborhood and the world, and what better way to do that than through reading. Everyone should be able to see themselves in the pages of a book, and discovering a mirror in the form of a book at a Little Free Library can be the first step in building that sense of community.
Download the free Little Free Library mobile app at LittleFreeLibrary.org/App, and be sure to follow along on Facebook, Instagram, Twitter, and TikTok to see how Little Free Library is building community around the world one book-sharing box at a time. Learn more about starting a Little Free Library of your own at LittleFreeLibrary.org/Start.
Sarah Nelson is the Content Coordinator at Little Free Library.