Blog Posts
Dollar General Literacy Foundation and RIF: 20 years of inspiring reading
This blog post is part of our National Reading Month series focused on how reading unites communities and inspires endless possibilities. Read on to learn about how the Dollar General Literacy Foundation (DGLF) and Reading Is Fundamental (RIF) have empowered thousands of children to read, learn and grow over nearly two decades of collaboration.
This National Reading Month, we celebrate all things reading and the partners that help propel our mission forward. We are thrilled to celebrate the Dollar General Literacy Foundation and their deep commitment to children's literacy in this week's post.
Our partnership began in 2004 and together we have supported nearly 600,000 students through the distribution of nearly 2 million books and literacy resources in Dollar General communities! Annually, RIF and DGLF support more than 60 elementary schools, providing children with book choice and access through RIF's flagship Books for Ownership (BFO) program. We are helping children build their home libraries and 96% of educators in these schools indicate that our programmatic work together has also driven student engagement and inspired their love of reading each year.
RIF and DGLF's work goes beyond the critical role of ensuring access to print books. Over the years, DGLF has also provided support for RIF's Literacy Central Mobile app which puts engaging book resources right at the fingertips of educators and families. And, we recently worked together to curate thematic literacy activity toolkits that provide booklists and reading activities aligned to themes including community, friendship, courage and diversity.
"The Dollar General Literacy Foundation is committed to supporting students as they grow into strong and confident readers," said Denine Torr, executive director of the Dollar General Literacy Foundation. "Providing access and choice to books through schools is a powerful combination. We are proud to partner with RIF to build home libraries, provide online literacy resources and rebuild libraries to help communities, children and families thrive."
Currently, RIF and Dollar General are collaborating on book distributions and library refresh initiatives. The library refresh program is transforming school libraries in communities with great need. Our first of these efforts took place in Hindman, KY in January of this year. The school suffered significant damage due to historic flooding that occurred in July 2022, with the library space being completely ruined. RIF and Dollar General staff from the Kentucky and Tennessee areas came together to assemble new furniture and organize new books for the library in an inspirational space dedicated to furthering a joy of reading within the school. Together, we created a new space that features fun seating, accessible bookshelves for younger students, leveled readers for 26 different reading levels, over 1,000 new books grouped by theme, engaging artwork to spark imagination, and a functional design to support both independent reading and guided instruction. We can't wait to see what the other refreshes bring and know that these updates will go a long way toward creating a space that unites the school community and brings them together to read.
BEFORE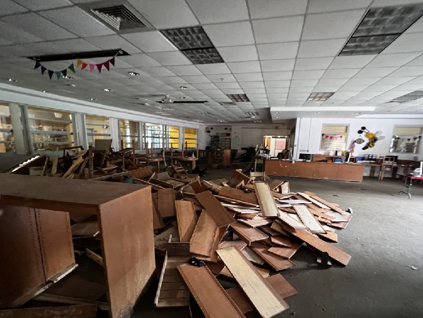 AFTER

As we look ahead to the next chapter of our work together, we are energized by all we have been able to accomplish to date and the impact we will continue to make in the future. 2023 marks the 30th anniversary of the Dollar General Literacy Foundation. We look forward to celebrating the incredible work of the Foundation and 20 years of making an impact together in communities across the nation.