Blog Posts
Driscoll's children's book "a Sofia special" brings a moment of sweetness to young readers
Reading Is Fundamental is proud to partner with Driscoll's to spread the joy of shared moments- whether over books or berries- or both! In this guest blog, Frances Dillard, Driscoll's Vice President of Brand and Content Marketing, discusses a recent RIF book celebration event supported by Driscoll's in New York City, and shares some details about "A Sofia Special," their new children's book focusing on the themes of love, empathy, and resilience. Read on to learn about Driscoll's commitment to supporting communities nationwide as well as their drive to help nurture children's literacy and the joy of reading.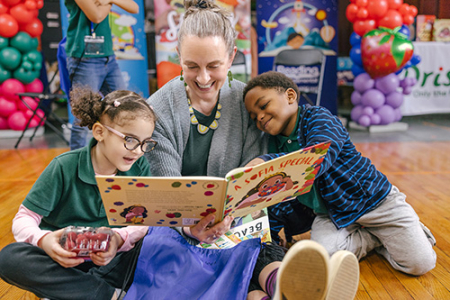 Reading Is Fundamental (RIF) and Driscolls recently kicked off our multi-pronged partnership with a book celebration event in New York. On a cloudy day in March, excitement and joy filled the halls of Bedford-Stuyvesant New Beginnings Charter School in Brooklyn, New York as the school's kindergarten, first and second grade classes gathered for a "berry" fun and vibrant RIF event including a visit from Driscoll's in celebration of their first children's book, "A Sofia Special." Students laughed as the book's author, Julie Falatko, led an energetic and interactive read-aloud of the story and smiled while participating in berry-inspired reading and literacy building activities. Driscoll's facilitated a moment of shared sweetness by treating everyone to their own copy of the book and choice of delicious berries. This event was the first in a series of partner activations with RIF where we will be working together to spread this shared sweetness to six other communities nationwide, reaching over 1,000 students as we strive to nurture readers and leaders together.
Curious how our berry company decided to publish a children's book? "A Sofia Special" is a hilarious, charming, and heartwarming interpretation of Driscoll's commitment to promoting emotional connections through shared experiences. Noting how very important families reading together was during the pandemic and in its wake, Driscoll's landed on the idea to write a children's book to bring our focus on sharing and sweetness to life as the book's main character Sofia retells her "messy mountain of a day" to her father. Over a bowl of berries and ice cream, this special scene reminds us how love, resilience, and empathy can change one's outlook and of the joy found in ordinary moments when shared with someone you love.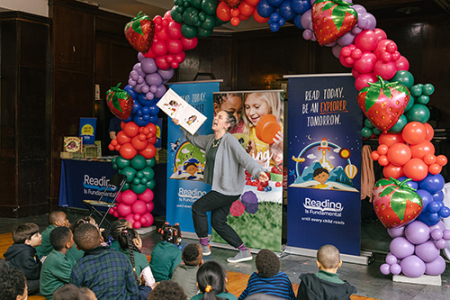 The story for "A Sofia Special" came to Julie while watching a very sweet Driscoll's commercial where a dad offers his daughter ice cream with berries on top. "It's clear there's more to the story than what's shown in the commercial," she explained. "I love the notion that if you have a rough day, your home is a safe place to land at the end of it, and your family is waiting for you, ready to listen."
Julie adds, "There have been so many times when my own kids have come home and told me about their day where everything went sideways. So often the incidents seem like little things to me, but I know they were big and meaningful to my kids. Now I'll need to make sure I always have berries and ice cream on hand to cheer them up!"
Anyone can experience the joy of reading and "A Sofia Special" by visiting www.Driscolls.com/ASofiaSpecial for a special animated read-aloud and free, printable activity sheets inspired by the book. Readers can also take RIF's summer reading pledge for a chance to win your very own copy of the book. Visit www.RIF.org/Summer to pledge today. And, be sure to follow along on social media (@driscollsberry) to interact with Driscoll's and "A Sofia Special."
Togetherness and sharing something sweet will continue to inspire Driscoll's and RIF's plans to create more sweet moments for more young readers across the country, because, after all, life is sweeter when you have someone to share it with.