Blog Posts
How to inspire family reading for all
By National PTA
Representation is a powerful tool for children to dream big about what's possible for their future. Books with authentic representation of identities offer an opportunity to offset societal prejudices, marginalization and historical disenfranchisement through the power of story. As community connectors, PTAs have the power to ensure students have access to these books and other inclusive literacy resources.
Miami Dade County Council PTA/PTSA in Miami, FL, is a great example of this power in action. Inspired and motivated by funding from the National PTA Family Reading Experience program, sponsored by Office Depot OfficeMax, this PTA/PTSA formed a Family Literacy Committee to plan and implement a school community reading initiative that would increase students' access to inclusive reading materials and experiences.
Given the social distancing and safety protocols put in place to combat the COVID-19 pandemic, the Family Literacy Committee chose to focus on hosting virtual read-aloud events and providing families with books and other literacy resources. By tapping into their PTA and school community networks, the committee was able to find authors willing to read their published books on Zoom. They also began purchasing and shipping those books to participating families so they could follow along with the authors and read the books again later.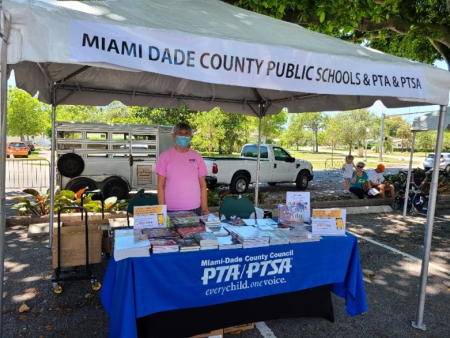 The readings, done by Danielle Joseph for her book I Want To Ride The Tap Tap, and by Andrew Toffoli for his book Susan Bear Anthony, were extremely well received by their students and families, and inspired even further opportunities for community engagement around literacy. In fact, the council was invited by the Coral Gables Family Literacy Festival organizers to participate in their Memorial Day Weekend Festival! During the event, Miami Dade County Council of PTA/PTSA was able to give away over 200 books to students in need.
While the committee did see great success in their efforts, the initiative was not without challenges. The largest hurdle they encountered was negotiating for discounted books. To solve for this, the committee contacted authors, publishers, distributors and bookstores, leaving no stone unturned to get the best possible prices.
The council remains committed to creating and sustaining literacy programming in the community. To make promoting literacy a year-round initiative, they developed a partnership with the Miami Dade County Public Library System to host even more read-aloud events and book giveaways. As a result, now every three weeks a different library branch in the county will host an author to read their work, while Miami Dade County Council of PTA/PTSA provides the books to be distributed. Plus, they have matched three-fold their initial funds to offer the program continuously to 350,000 students in the fourth-largest school system in the USA!
National PTA remains committed to helping individuals, schools and PTAs succeed in their efforts to expand inclusive literacy programming by providing grant funded opportunities—as well as inclusive literacy resources, activities and books at PTA.org/FamilyReading. And now, through collaboration with Reading Is Fundamental (RIF), National PTA is proud to engage families in RIF's Rally to Read 100 initiative, a great opportunity for school communities to get started in developing their own inclusive literacy programming!
About National PTA
National PTA® comprises millions of families, students, teachers, administrators, and business and community leaders devoted to the educational success of children and the promotion of family engagement in schools. PTA is a registered 501(c) (3) nonprofit association that prides itself on being a powerful voice for all children, a relevant resource for families and communities, and a strong advocate for public education. Membership in PTA is open to anyone who wants to be involved and make a difference for the education, health and welfare of children and youth. For more information, visit PTA.org.