Blog Posts
The Power of Books to Drive Career Exploration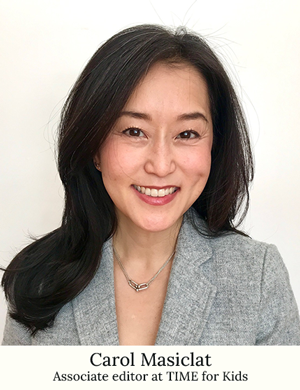 We're delighted to feature this piece from our friends at TIME for Kids who share our commitment to the power of books and the discovery and imagination they unlock. Books unleash students' curiosity about future careers as they explore the possibilities of the people and world around them. Read on to hear from Carol Masiclat, an associate editor at TIME for Kids, where she works on Your 🔥 Job, a new, free career-exploration site for ages 8 to 14. She spent most of her career in higher education and is the mother of an avid reader. She shares about exciting new resources on the platform and ideas for how we can help students see anything is possible. 
Did you know that November is National Career Development Month? It's a great time to encourage the kids in your life to explore opportunities and spur the self-awareness that will position them for success in future careers. They will enter a job market far more diverse and dynamic than the one we entered a generation ago. But regardless of technological shifts or economic changes, there will always be a demand for workers who can understand content, connect it to what they know, and build on it with new ideas. Those are skills we grow as readers, starting as kids and continuing throughout life.
To empower kids who are curious about where their strengths and talents will take them, we created Your 🔥Job, a free digital platform that introduces kids to the world of careers. Launched last fall, Your 🔥Job shares stories of successful professionals: some took a conventional path, some took an unexpected path, and others charted their own. Its key message: there's no one route to success, and we can all get there.
Recent Bureau of Labor statistics show the fastest growing occupations over the next 10 years are in the fields of technology and healthcare, and the greatest growth is in careers related to healthcare support and computers/mathematics. These jobs require specialized training, and in many cases, a bachelor's degree or higher level of education. So for some, college readiness is needed to achieve career readiness.
However, many young people won't take the college route. I was a first-generation college graduate, and my parents built their lives around making that accomplishment possible. Back then, a college degree was the single key to what they considered the gateway to a bright future. Now there are more paths to bright futures than ever, and the goal of Your🔥Job is to highlight and celebrate all of them.
This fall, Your 🔥Job introduced new resources to help kids develop key skills that pair with their interests and talents. These resources will aid their exploration in a more focused way. Here are some more ways to support kids as they envision their futures:
Talk about the different jobs you see people doing in your community. Discuss how they help others, why those jobs are important, and how you can train to do them.
Pay attention to what lights them up. Seek opportunities to leverage existing strengths and discover new ones in a high-energy, low-stakes way. This can help develop confidence, and the ability to approach a challenge with a sense of adventure, not fear.
Spark interest through reading. Books can unlock a new world of exploration and curiosity. We've curated career-related reading lists below to help you get started.