Press & Articles
Dollar General and Reading Is Fundamental partner to support Kentucky school
Company Partnership with Reading Is Fundamental Supports School After Historic Flooding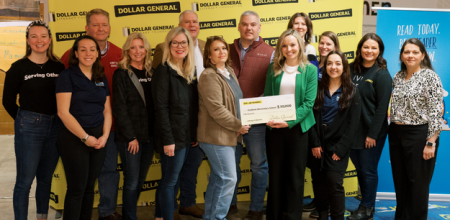 In July 2022, historic flooding severely impacted eastern Kentucky communities. As waters receded at Hindman Elementary School in Hindman, Kentucky, the reality of a school without a library, books or literacy resources set in.
Together with Reading Is Fundamental (RIF), Dollar General recently surprised Hindman Elementary's administration with a $50,000 donation from its Reading Revolution program, which aims to support the school's literacy programs.
To further support the library's rebuilding efforts, local Dollar General employees and their colleagues from the Company's Store Support Center in Goodlettsville, Tennessee volunteered to assemble furniture and organize books. All teachers and staff also received a $25 Dollar General gift card, and the school received a hand-painted mural by local artist Lucy Hale.
"Dollar General is proud to support Hindman Elementary School as it rebuilds its library following the 2022 floods," shared Denine Torr, Dollar General's vice president of corporate social responsibility and philanthropy. "Together, with our partners at Reading Is Fundamental we are excited to help provide the school and its students with resources to enhance the joy of reading and nurture imagination."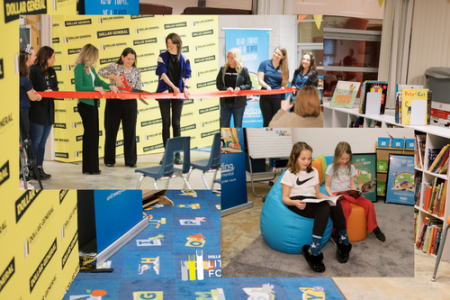 "Hindman Elementary would not be operating today without the kindness and generosity of so many, including the library renovation project championed by Dollar General and Reading is Fundamental," shared Brandi Sims, Hindman Elementary School's principal. "When tragedy hits, the need for certainty and normalcy becomes a necessity, and schools can provide that for so many. The $50,000 gift from Dollar General will allow for much-needed furnishings and supplies for our library and school. There aren't enough words to express the gratitude we have for those who went above and beyond to assist our school, students and community!"
Since its inception in 2013, Dollar General's Reading Revolution program has awarded approximately $4.2 million to more than 115 schools. Administrators may use the funds at their discretion to purchase books, technology programs, computers and/or other education supplies or resources.
Founded in 1966, RIF is committed to a literate America by inspiring a passion for reading among all children, providing quality content to make an impact and engaging communities in the solution to give every child the fundamentals for success. Through partnerships with book publishers, volunteers, community groups, organizations, and like-minded corporations, RIF has distributed more than 422 million books and impacted the lives of more than 129 million children in all 50 states, D.C. and Puerto Rico.
About Dollar General Corporation
Dollar General Corporation has been delivering value to shoppers for more than 80 years. Dollar General helps shoppers Save time. Save money. Every day.® by offering products that are frequently used and replenished, such as food, snacks, health and beauty aids, cleaning supplies, basic apparel, housewares and seasonal items at everyday low prices in convenient neighborhood locations. Dollar General operated 18,818 stores in 47 states as of October 28, 2022. In addition to high-quality private brands, Dollar General sells products from America's most-trusted manufacturers such as Clorox, Energizer, Procter & Gamble, Hanes, Coca-Cola, Mars, Unilever, Nestle, Kimberly-Clark, Kellogg's, General Mills, and PepsiCo. Learn more about Dollar General at www.dollargeneral.com.