Blog
Check back often for our latest updates and news!
06/07/21
Celebrating a Literacy Lion, Dick Robinson, President & CEO of Scholastic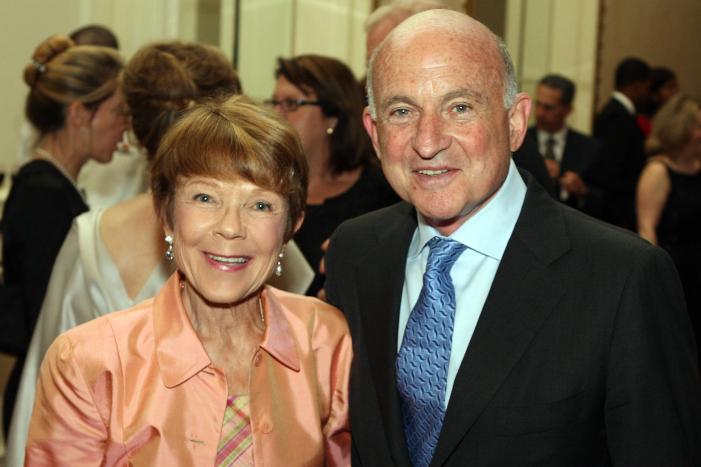 Photo: Margaret McNamara Pastor (Left), former RIF Board Member and Daughter of RIF Founder Margaret McNamara, with Dick Robinson (Right) at the 2011 RIF Gala.
A love of children's books – and Reading Is Fundamental - ran in Dick Robinson's family. His father, M. R. (Robbie) Robinson, was the founder of Scholastic, Inc., the world's largest publisher and distributor of children's books, and an early supporter of RIF's mission. When Dick took on the role of President of Scholastic in 1974, he championed RIF's efforts and forged a partnership that has endured, innovated, and thrived to this day. Our long history of collaboration has impacted millions of children and advanced the cause of children's literacy for generations of readers.
It is with deep sadness that we mourn the loss of this giant of children's literacy and strong supporter of RIF. I was honored to work with Dick and his amazing team at Scholastic daily to advance RIF's work on behalf of children nationwide. Under his leadership, Scholastic provided valuable support to RIF by donating hundreds of thousands of books to children who would otherwise not have access, sponsoring events in communities throughout the country, and contributing to key fundraising initiatives to ensure our work continued. I believe Dick articulated the importance of the relationship between RIF and Scholastic the best on the occasion of RIF's 50th anniversary where he reflected on our organization's beginnings and our collaboration.
Dick Robinson leaves behind a legacy of impact that will be felt for years to come. On behalf of Reading Is Fundamental, our Board of Directors, and the children we serve, I send our deepest condolences to Dick's family, friends, colleagues, and the entire Scholastic family.
Alicia Levi
President & CEO