How We Help
RIF develops content and resources that produce measurable results. Through RIF's various programs and partnerships, we provide opportunities for children and their families to experience the life-changing impact of reading. Reading is the fundamental building block to all life's essential skills. We invite you to explore our program options for bringing books and literacy resources to children at home, in the classroom, and in the community.
We now offer grants to help our sites and partners implement these programs in their communities. Find out more about RIF's grant opportunities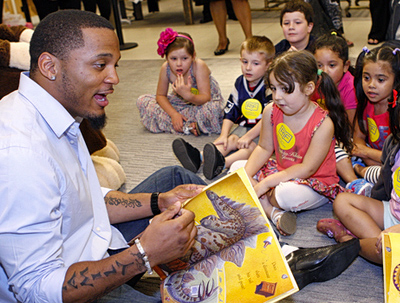 Books For Ownership
Focusing on access and choice, students in communities throughout the country participate in RIF's flagship program, Books for Ownership, selecting new, age-appropriate books to take home and own. The program's integrated approach to literacy provides supporting resources to teachers and inspires children to learn through two annual events focused on book distribution and reading.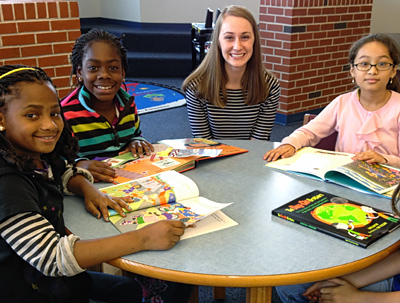 READ FOR SUCCESS
This innovative reading intervention program addresses the literacy backslide that traditionally happens during the summer months.  Read for Success is centered around motivating children to read by providing access to high-quality classroom book collections, summer books for students to choose and own, enriching STEAM-themed classroom activities, professional development for teachers, and parent engagement resources.
Tested over two years among 33,000 students from 16 states, RIF's Read for Success helped reverse the trend of summer learning loss for more than half the participating students.
In addition, 57% of the students saw gains in reading proficiency when tested from spring to fall.
Literacy Central
Literacy Central is an online destination for teachers, parents, and literacy volunteers to get thousands of free digital resources tied directly to the books children love and teachers turn to everyday. The portal provides tools to easily organize and keep reading resources in one place with customizable book lists, printable lesson plans, activities, games, reading passages, calendars, and videos.
Literacy Central App
The RIF Literacy App is a free resource that allows users to scan an ISBN bar code of a specific book and launch the Literacy Central webpage dedicated to activities, games, and helpful tips specific to the book. Children are motivated to stay engaged with reading through countless adventures that start with just one book. Parents and educators have an easy, trusted tool designed to create a culture of literacy for lasting impact. Coming soon!
Your contribution will help us provide free books and literacy programs to children across the nation.
Have a question? Please take a look at our FAQs for the answers. Can't find the answer you need? Send us an email.