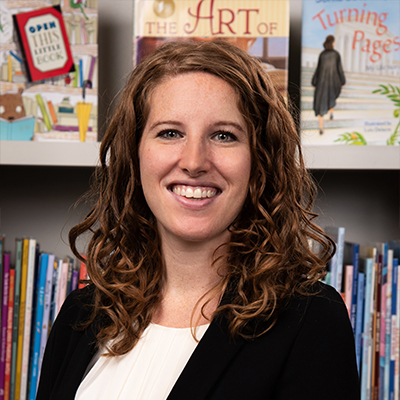 Jennifer Moone
Vice President, Marketing & Partnerships
Jennifer joined RIF in 2011. In her current role, she oversees RIF's relationships and partnerships with leading educational organizations, civic groups, and governmental officials. She is responsible for driving engagement and awareness, with oversight for development and implementation of many strategic and promotional initiatives. From marketing campaigns, to programmatic implementations to advocacy and awareness events, Jennifer has strategized, managed, and executed myriad initiatives during her tenure at RIF. Previously, she worked as part of RIF's Community Team, focused on building capacity, building relationships, and driving engagement with local partners including school, school districts, youth and community organization, civic and volunteer group, and school-adjacent contacts.
Before joining RIF, Jennifer worked as an Associate at a government relations and public affairs firm, serving the firm's municipal and education clients on a broad range of legislative issues including energy, appropriations, public safety, infrastructure and transportation. Prior to that, Jennifer held legislative and outreach roles at a national environmental non-profit organization and worked in the office of Congressman Steny Hoyer of Maryland.
A native of Baltimore, Maryland, she holds a Bachelor of Arts from the University of Maryland, College Park, where she majored in Government and Politics as well as Spanish Language and Literature.
FAVORITE CHILDREN'S BOOK
I loved Shel Silverstein and this was favorite for bedtime. I have many memories reading this together with my parents.