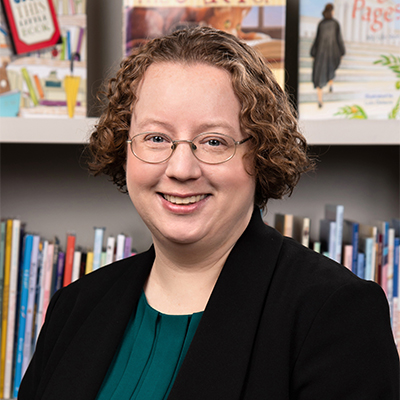 Cammie L. Backus
Vice President, Operations
Cammie joined RIF as a member of the programs department in 2000, moving to the executive office in 2006. As vice president, Cammie serves as liaison to the board of directors, planning and executing several board and committee meetings annually. She also works with external legal counsel to oversee review of copyright and trademark infringement cases; drafts executive correspondence and edits communications; and supervises other special projects for the executive office.
Cammie has held several positions of increasing responsibility. Her previous roles at RIF have included managing applications for federally funded RIF programs, negotiating permissions with publishers, and analyzing demographics/statistics to help shape RIF policy. Prior to joining RIF, she worked in D.C.-area independent bookstores and for a nonprofit trade association in administration and marketing.
Cammie has a master's degree in library science with a concentration in school library media from the University of Maryland, and a bachelor of science degree in computer information systems from Strayer University.
FAVORITE CHILDREN'S BOOK
I appreciated Anne's curiosity, independence, and enjoyment of nature.